Viktor Hovland What's In The Bag?
We take a look inside the bag of the Norwegian professional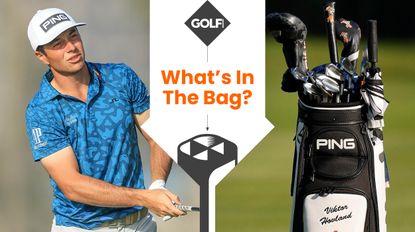 (Image credit: Getty Images)
Viktor Hovland What's In The Bag?
Norwegian youngster Viktor Hovland has won three times on the PGA Tour, once in Puerto Rico and twice at the Mayakoba Golf Classic. He also earned his first DP World Tour victory in 2021 at the BMW International Open and has won two consecutive Hero World Challenge events as well. Let's get to his current club setup.
Viktor Hovland What's In The Bag?
Driver
Ping G425 LST
At the top of the bag he uses a Ping G425 LST driver (opens in new tab) which he uses to great effect. Back in 2021 he was also testing longer drivers to seek more distance as well. For example he has tested Ping G425 LST models with 47-inch, and 48-inch driver shafts.
The driver slot in Hovland's bag has been the most tumultuous really given a couple of unfortunate events. In November 2021, Hovland let Danny Lee hit a couple of shots with it on the driving range at Mayakoba, and it subsequently snapped. Hovland borrowed a replacement from James Hahn and then won the tournament. In 2022 Hovland's driver was snapped again, this time by Delta Airlines on the way to Hawaii for the Sentry Tournament of Champions.
Fairways
TaylorMade Stealth Plus
He then carries a TaylorMade Stealth Plus fairway wood as you can see above, and then occasionally a Ping G425 Max seven-wood. We know the Stealth has 15 degrees of loft but we are yet to confirm the exact loft of the G425 Max wood. We do know it is fitted with a Graphite Design shaft though. It comes in and out of the setup depending on the course and conditions.
Hybrid
Ping G425
A new addition to the bag in 2022 is a hybrid. He had been using the Callaway Apex UW for a while but he now uses a Ping G425 model with around 19 degrees of loft. The Ping G425 hybrid has the same thin maraging steel face as its predecessor, the Ping G410. Generating high ball speeds, it also features Ping's Facewrap design technology that works across the crown and sole of the club promoting an easy launch and longer shots.
Irons
Ping i210
Shifting to the irons his setup has recently changed. He often carries a Titleist U510 Utility iron and had been testing a prototype set of the Ping i59's. However these appear to have come out for a set of Ping i210' (opens in new tab)s. They go from four-iron down to pitching wedge. When playing in the wind Hovland actually does something quite neat with his i210's to get them to fly a little lower. He shortens all his clubs (aside from putter) by a quarter-of-an-inch, and the lofts strengthened by 0.5 degrees. The shortening of the clubs reduces spin, whilst the movement of the lofts increases ball speed - both combine to flight the ball lower.
Wedges
Ping Glide 4.0, Ping Glide 2.0
He then has two Ping Glide 4.0 wedges with 50 and 56 (bent to 55). His final wedge in the bag is a 60 degree Ping Glide 2.0. In our testing the Ping Glide 4.0 wedge looks exceptional - especially in the more traditional teardrop shape that is available in three of the four sole options. Most impressive, however, was how easy it was to spin the golf ball. Even when hitting shots that came off a little hotter and lower than expected, the ball sat to attention quicker than most new wedges.
Putter
Ping PLD DS 72
Finally he had been using a TaylorMade TP Black Copper Mullen 2 DB SS putter, and a Ping Sigma 2 Wolverine H model before switching to his current flat-stick, the Ping PLD DS 72 as pictured above. Speaking to Golf.com Hovland said of the putter; "I've gone through some counterbalance putters in the past that I played in school, so I really like that shape. When I decided to sign with Ping, I stayed in that same head style but made one adjustment. There's a line on the putter, but we also put one on the [topline] as well so the two lines match up together at address. Other than that, it's the same head shape because that's what I'm comfortable with. The milled insert in that putter is something that I much prefer as well. Instead of the ball melting on the face, you can feel the ball a little bit and it improved my speed."
Ball
Titleist Pro V1
Hovland uses the Titleist Pro V1 golf ball (opens in new tab) after making the move in 2021. Hovland told Titleist; "I've really liked it at tournaments just when I've been chipping around greens. I feel like I'm still able to launch the ball up in the air a little bit while getting that spin. And so then I was entering the testing process with the mindset of, 'OK, I like it around the greens. Let's see how it performs with irons and the driver.' And for me, it didn't do that much differently (than prior generation), which is a good thing because I liked where the spins were at, the launch angles, and the overall feel of it. So if it's very, very similar with all those shots, but I feel like it performs better around the greens, I felt like it was a good decision just to start playing it."
Full Specs
*Note - The utility comes in and out of his setup regularly
Driver: Ping G425 LST, 9 degrees at 8.4, Fujikura Speeder 661 TX shaft
Three-wood: TaylorMade Stealth Plus, 15 degrees with Fujikura Ventus Blue 7 X shaft
*Seven-wood: Ping G425 Max with Graphite Design Tour AD DI 8 X shaft
*Hybrid: Ping G425 with Fujikura Ventus Blue 9 X shaft
*Utility: Titleist U510, 21 degrees with Graphite Design Tour AD-DI Hybrid 85X shaft
Irons: Ping i210 (4-PW) all with KBS Tour 120 X shafts
Wedges: Ping Glide 4.0 (50-12SS, 56-06SS), Ping Glide 2.0 (58-12TS) with KBS Tour-V 130 shafts
Putter: Ping PLD DS 72
Ball: Titleist Pro V1
Apparel: J.Lindeberg
Shoes: Nike