Rules of Golf: Identifying Your Ball
Jeremy Ellwood highlights how to go about identifying your golf ball when the need arises to stay the right side of the Rules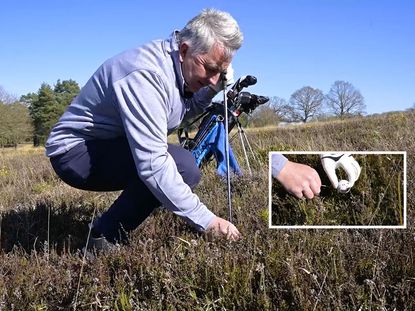 Rules of Golf: identifying your ball
As a player, you are always responsible for playing the correct ball at all times, so it's good practice to put an identification mark on your ball to make it easier to identify that it is indeed your ball (Rule 6.3a). While it isn't actually compulsory under the Rules to do this, and there is no penalty for not doing so, being certain that the ball you are playing is yours is always a good thing and it can also be beneficial if trying to figure out relief options for a ball which is visible but perhaps not retrievable.
Although adding an identification mark clearly makes the process of identifying a ball easier, Rule 7.2 provides more detail on how this can be done if you haven't marked your ball. If you find a ball which is the same brand, model, number and condition as yours in an area where you expect it to be, that is sufficient unless an identical ball is in the same area and there is no way of knowing which is which.
Even if you have put an identification mark on your ball, sometimes you're going to find it so badly buried or barely visible that it may not be possible to immediately confirm that it is yours. In such circumstances, you are allowed to lift the ball to take a closer look under Rule 7.3, but before you rush in and just pick the ball up, there are some things you need to do to avoid incurring an unnecessary penalty when identifying your ball:
* You may only lift your ball to identify it when it is genuinely necessary to do so.
* Before lifting the ball, you must mark its position (using a tee or something similar).
* If there is mud or dirt on the ball, you may only clean it to the extent required to identify it.
* Once identified, you must then return the ball back to its original position.
Failure to comply with any of these requirements results in a one-stroke penalty, and furthermore, if you fail to replace the ball in the correct spot, the penalty escalates to two strokes in stroke play or loss of hole in match play for playing from a wrong place.
It's also worth noting that while you are no longer penalised for accidental movement of your ball while searching for it, if you do move it, you must replace it in its original spot (estimating it to the best of your ability if you can't be certain) to again avoid a penalty for then playing from a wrong place.
If you need to positively identify a ball lying in (or potentially covered by) sand, you may do so whether it's a bunker or any other sand on the course. Rule 7.1b explains how to proceed.
After identification, you must recreate the original lie in the sand, but may leave a small part of the ball visible if the ball had been covered by sand. If you play your subsequent shot without recreating the original lie, you will get the general penalty.
Finally, if you're playing the same make, type and number of ball throughout, it is always a good idea to mark a provisional ball slightly differently to allow you to determine which is the provisional ball and which is the original ball should you happen to despatch them to the same part of the jungle! Rule 18.3c (2) clarifies what happens if you do just this and are unable to confirm which is which (and it's not good news for your scorecard!):
* If only one of the balls is found on the course, that ball is treated as the provisional ball, which is now in play.
* If both balls are found on the course, the player must choose one of the balls to be treated as the provisional ball, which is now in play, and the other ball is treated as lost and must not be played.
In other words, all the more reason to ensure that every provisional ball you hit is easily distinguishable from the original!
Jeremy Ellwood has worked in the golf industry since 1993 and for Golf Monthly since 2002 when he started out as equipment editor. He is now a freelance journalist writing mainly for Golf Monthly across the whole spectrum from courses and Rules to equipment and instruction. He also edits The Golf Club Secretary Newsletter, a highly regarded trade publication for golf club secretaries and managers, and has authored or co-authored three books and written for a number of national papers including The Telegraph and The Independent. He is a senior panelist for Golf Monthly's Top 100 UK & Ireland Course Rankings and has played all of the Top 100 plus 91 of the Next 100, making him well-qualified when it comes to assessing and comparing our premier golf courses. He has now played well over 950 golf courses worldwide in 35 countries, right across the spectrum from the humblest of nine-holers in the Scottish Highlands to the very grandest of international golf resorts, but put him on a links course anywhere and he will be blissfully content.
Jezz can be contacted via Twitter - @JezzEllwoodGolf
Jeremy is currently playing...
Driver: Ping G425 LST 10.5˚ (draw setting), Mitsubishi Tensei AV Orange 55 S shaft
3 wood: Ping G425 Max 15˚ (set to flat +1), Mitsubishi Tensei AV Orange 65 S shaft
Hybrid: Ping G425 17˚, Mitsubishi Tensei CK Pro Orange 80 S shaft
Irons 3-PW: Ping i525, True Temper Dynamic Gold 105 R300 shafts
Wedges: Ping Glide 4.0 50˚ and 54˚, 12˚ bounce, True Temper Dynamic Gold 105 R300 shafts
Putter: Ping Fetch 2021 model, 33in shaft (set flat 2)
Ball: Varies but mostly now TaylorMade Tour Response