Nelly Korda What's In The Bag?
Take a look inside the bag of young American star Nelly Korda.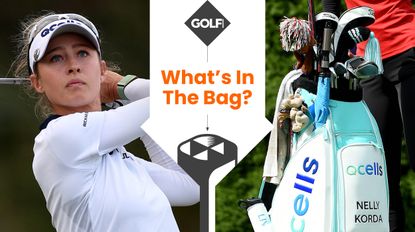 (Image credit: Golf Monthly)
Nelly Korda What's In The Bag?
Five years younger than fellow LPGA player and sister Jessica Korda (opens in new tab), Nelly Korda has become a star of the women's game, winning many times on the LPGA, competing in Solheim Cups, winning a Major in 2021, and also winning Olympic Gold in Tokyo. Not to mention she played herself to the world number one slot as well. What golf clubs does she carry out on Tour? Let's take a look below.
Nelly Korda What's In The Bag?
Driver
Titleist TSR1
Nelly is a brand ambassador for Titleist and as such many of her clubs are made by the brand. She had been using a Callaway GBB Epic driver for a long time but she has now put the Titleist TSR1 driver in the bag. She did have the TSi1 model in the bag for a while so this switch makes sense.
"It's a lot less spin, which is what I'm looking for," Korda said to Golf.com. "My [TSi1] was flying nicely, but it was spinning a bit much. Since we've been able to drop the spin, I'm still seeing a similar carry and more rollout. The overall look of the two drivers is pretty similar, except where the shaft is inserted on the TSR1," Korda said. "It looks a bit more pronounced. It's nice to look at, and it doesn't hurt when you can make the switch without having to make a bunch of adjustments."
Fairways
Titleist TSi2
She then transitions down into two Titleist TSi2 fairway woods (opens in new tab). One of which acts as her three-wood with 16.5 degrees of loft and the other is more of a seven-wood with 21 degrees of loft. A club that nearly got five stars in our review; one of the first things we noticed with the TSI2 was the consistency of the flight. Inevitably with fairway woods, which are often the hardest clubs in the bag to hit well, the strike locations tend to be more inconsistent. And yet, with the TSi2, the resulting distances and flights were impressively predictable.
Hybrid
Ping G425
A new addition to the bag is her hybrid, a Ping G425 (opens in new tab). We are yet to confirm when this club actually came into the setup but what is clear is it has replaced the Titleist T200 iron she had in this slot. We believe it has 25 degrees of loft and is fitted with a Fujikura Ventus Blue HB 7 S shaft.
Irons
Titleist T100
Moving to the irons, as we mentioned above Korda did have a T200 four-iron in the bag but this has gone. Now her longest iron in the bag is a five-iron and it is part of her Titleist T100 (opens in new tab) set that goes down to pitching wedge. Interestingly Korda decides to use the older T100 model but given how many Tour prof's have put the newer model in, we would not be surprised to see a new set show up in 2022.
Why does she use the T100's? Well when she spoke to Golf Digest (opens in new tab) last year she said; "So much more consistency with them, and I knew right away. Sometimes you get irons that get hot, you don't see the shape you like to. There's so much consistency with shape of the ball and with distance, it's exactly what I want."
Wedges
Titleist Vokey Design SM8
She then has three Titleist Vokey SM8 wedges (opens in new tab) with 50, 54, and 58 degrees of loft. Again, speaking to Golf Digest, Korda said; "I love my wedges. Aaron [Dill] did a great job. Met him for the first time a few months ago. I used to call him up and give him what I wanted through the phone, but when I got fitted in person we found my 58 flew a little too high. We've been able to get that down to where I want it. There's nothing too special about my wedges. 58, 54, 50. I love skulls, which I think is odd. People are always like, "Uh … what?" So have them stamped on, and there's a lion on one of them too."
Putter
Scotty Cameron Special Select Squareback 2 Prototype
Her final club in the bag appears to be a Scotty Cameron Special Select Squareback 2 Prototype. Korda said of the switch away from her Newport; "So I switched to the putter right before the U.S. Open, before my first two wins. Before I had the Newport 2. I like black putters so I can see the white line easier. With the Squareback it's easier to line up, the line is longer. I like the look of it because of the mallet, because it reminds me of the Newport, I didn't really want to switch, but this fits my stroke so well."
Ball
Titleist Pro V1
Finally Korda also uses a Titleist Pro V1 golf ball (opens in new tab). This ball allows her to get a little bit more distance without compromising on the feel she wants with the irons and around the greens. It also gives her a slightly higher ball flight which she liked.
Full Specs
Driver: Titleist TSR1 (10 degrees) with Graphite Design Tour AD IZ 6 S shaft
Fairway wood: Titleist TSi2 (16.5 degrees) with Fujikura Ventus Red 7 S shaft
Fairway wood: Titleist TSi2 (21 degrees) with Mitsubishi Tensei AV Raw Blue 75 S shaft
Hybrid: Ping G425 (26 degrees at 25) with Fujikura Ventus Blue HB 7 S shaft
Irons: Titleist T100 (5-PW) all with Aerotech SteelFiber i80cw F4 shafts
Wedges: Titleist Vokey Design SM8 (50-08F, 54-10S, 58-08M) all with Aerotech SteelFiber i95cw S shafts
Putter: Scotty Cameron Special Select Squareback 2 Prototype
Ball: Titleist Pro V1