Lydia Ko What's In The Bag?
Take a look inside the bag of former world number one golfer, Lydia Ko.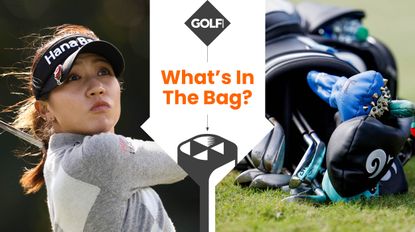 (Image credit: Golf Monthly)
Lydia Ko What's In The Bag?
Despite only being in her mid-20's, Lydia Ko seems to have been around for a long time now which is no surprise given how she shot to superstardom in her teens. She won a number of tournaments and broke several records, chief among which she became the youngest golfer ever to be ranked number one in the world. She achieved this when she was just 17 years old. To add to that, she has also won 2 Major titles and more than 10 other LPGA events. Let's take a look at her equipment setup below.
Lydia Ko What's In The Bag?
Driver
Titleist TSR3
Ko has an equipment contract with PXG and currently has many clubs from the brand in the setup but there are a few non-PXG clubs as well. For example her driver is a Titleist TSR3 which has a Mitsubishi shaft and nine degrees of loft. She had been using the TSi3 model but we noticed the change at the Scottish Open in 2022.
Visually, nothing significant has changed in terms of how the TSR3 driver sits at address versus the TSi3. It maintains the same traditional look and shape that so many golfers love. The feel is powerful and it strikes the ideal balance of control with competitive ball speed and distance.
Fairways
Titleist TSR2, PXG 0341 X GEN2
She then transitions down into two different fairway woods. She has a Titleist TSR2 three-wood which is a very new model, and then a PXG 0341 X GEN2 fairway wood which is a slightly older models but as we have seen with many professional golfers, when they find a fairway wood they like and trust, it usually takes quite a long time for that player to change. Ko is another example of that.
It is a sleek, traditional looking fairway wood aimed at golfers in search of a combination of distance and consistency. That this is so easy to launch, provides confidence that you don't need to swing too hard to get the ball up and away.
Hybrids
PXG 0317 X GEN2, Ping G425
She then carries one PXG 0317 X GEN2 hybrid with 19 degrees of loft, and a Ping G425 hybrid with 22 degrees of loft. Both are fitted with Graphite Design Tour AD IZ 65 R1 shafts.
Irons
Proto Concept C07 Forged, Proto Concept C05 Forged
Moving to the irons she has a new set at the moment moving away from the PXG set she had in the bag for a while. During testing she narrowed her choice down to Mizuno, Srixon, and a Japanese brand called Proto Concept. The latter won when, despite the Proto irons being a few yards shorter than her PXG's, dispersion and carry yardages were consistently tighter in the mid and short irons.
Her specific models are the cavity-back Proto Concept C07 Forged which is her six-iron, and then the C05 Forged from seven-iron down to nine-iron.
"She doesn't make any modifications to the head," said Masashi Kamoda to Golf.com, Proto Concept's Tour rep, who previously worked with Fourteen Golf. "There are straight from our consumer line. We don't have anything specialized, meaning tour prototypes, for the tour players. If someone wanted to buy the same clubs Lydia is playing, they could do that."
Wedges
PXG Sugar Daddy, Titleist Vokey SM9
Ko then carries two wedges, one of which is a Milled Sugar Daddy with 54 degrees, and a Titleist Vokey SM9 wedge (opens in new tab) with 58 degrees of loft. She was carrying a 58 degree a PXG 'Lydia' wedge but this appears to have come out around the tail-end of 2021.
Putter
Scotty Cameron Prototype
Her putter situation looks to have changed of late. She had been using a PXG Blackjack model for a while before switching to a prototype called the Thunderbolt, as well as a Thunderbolt C model. She also had a Ping Ketsch centre-shafted model in the bag for a long time but we have noticed she appears to have just changed to a Scotty Cameron model. It also has a centre-shafted design so clearly Ko is a fan of that aesthetic.
Ball
Titleist Pro V1x
She uses a Titleist Pro V1x golf ball (opens in new tab) which is one of the most used golf balls in the professional game. A ball that received five stars in our review, the Pro V1x is an excellent all-rounder, as you would expect. We were particularly impressed by the improved ball flight in the long game which didn't come at the cost of any short game control or feel.
Full Specs
Driver: Titleist TSR3 (9 degrees) with Mitsubishi Tensei Pro White 1K 50 S shaft
3-wood: Titleist TSR2 (15 degrees) with Project X RDX Smoke Blue 60 5.5 shaft
5-wood: PXG 0341 X GEN2 (18 degrees) with Graphite Design Tour AD IZ- 6 S shaft
Hybrids: PXG 0317 X GEN2, 19°, Ping G425, 22° both with Graphite Design Tour AD IZ 65 R1 shafts
Irons: Proto Concept C07 Forged (6) and C05 Forged (7-9) all with Aerotech FC 70 S shafts
Wedges: PXG 0311 Milled Sugar Daddy Wedge 54°, Titleist Vokey SM9 58° both with Aerotech FC 80 S shafts
Putter: Scotty Cameron Prototype
Ball: Titleist Pro V1x