Best Golf Gifts 2022 - our top gift ideas for Christmas Day
Need some Christmas Day gift inspiration? Our best golf gifts guide has ideas galore for the golfer in your life
(Image credit: Golf Monthly)
Best Golf Gifts - our top picks for Christmas Day
In need of a few golf gift ideas for Christmas Day? We have you covered with this fine selection of goodies – large, medium and pocket sized. We would all like golf gear for birthday, Christmas or just treating someone you love to something special - hopefully the right stuff - so our golf gift guide selects the hottest golf gear and best golf accessories out there. Alternatively, check out our guides on the best golf mats, best golf nets or funny golf gifts if you're looking for something more specific for the golfer in your life.
If you need some inspiration for golf gifts, or would like to drop some hints to those buying for you, then we have you covered with suggestions for all levels and budgets. You may want the latest driver, irons or top-of-the-range golf cart, but most budgets won't stretch to that, so this guide focuses on everything from stocking fillers to GPS gear and golf training aids.
Last Minute Gifts and Sales
Top Picks
PHIGolf's Smart Home Golf Simulator is a fun and performance-enhancing simulator that is very easy to set up and use. It takes up very little space in your home and you won't need a hitting mat or a net with this simulator. It comes with a swing stick that features a built-in motion sensor that tracks your golf swing.
Ultimately, this simulator is built for entertainment purposes, allowing users to play some of the most iconic courses in the world of golf from Pebble Beach to St Andrews. It also comes with seven different game modes including stroke play, nearest to the pin and longest drive, meaning there are hours and hours of fun to be had.
Blue Tees Golf is a relatively new name in the industry and it has a simple strategy: to create premium performance products at an affordable price. On the whole we think the Series 3 Max stuck to that ethos which is why it made this gift guide. One of its best features is the crystal clear display – it's beautifully clear, meanwhile, the lock and vibration features assures the user that they have the correct target, which means less guesswork and time spent on reshooting for distances.
We also enjoyed the speed, the aesthetic design and the three colors it comes in too: navy, black and pink.
With how many brands and cool designs that are on the market at the moment, now is the time to get a new pair of golf shoes. The FootJoy Fuel shoes came out earlier this year and offer more of a modern, trainer-like style which has seemed to be very popular. There is also plenty of traction and waterproof protection whilst the shoes are also incredibly versatile because they could be worn with trousers and shorts, in all seasons.
Trust us, if you get the golfer in your life a dozen Pro V1's then they will be over the moon. As you would expect the Pro V1 is well used out on Tour because of the combination of feel, performance, control and high levels of consistency. It should come as no surprise that it got five stars when we tested the ball.
The accuracy of the Aim W11 is excellent. Preloaded with 40,000 courses, the Aim W11 will pinpoint your position and give super-accurate yardages. In terms of innovation, features include a full-color touch screen display, plus green undulation and slope-adjusted distance readings (where available) to give the golfer better, real-life views and more control around the course. There are also excellent new zoom in/out functions around the green.
Want to work on your putting at home, in the office or just about anywhere? Well this mat from Perfect Practice is definitely a model to consider. The slight incline toward the hole makes you have to hit the ball nice and firm, a great way to practice putting pace which you can translate into more putts holed on the golf course.
Once a putt is holed, the ball conveniently comes back down the wooden runner on the right so you don't have to march back and forth every time you've holed a putt.
Do you know someone who insists on walking on the golf course? Well a good push cart is the way forward then and one of our top picks is the Nitron from Bag Boy. A model that made our best golf carts (opens in new tab) list, one simple step is all you need to fold this cart up or down which is outstanding. It's extremely lightweight and, when folded down, it's very compact, making it a dream in terms of storage. And while it may not be as heavy or bulky as other similar products, it remains robust and able to cope with any and all demands placed on it.
The Puma PopTop Mini Bluetooth speaker checks all the boxes when it comes to qualifying as a great gift. It delivers impressive sound and range, it's compact and lightweight, it's easy to set up and use, and it's a great value at its price point. And not only does it deliver enjoyment on the golf course, it's equally good away from the golf course as well. The PopTop Mini is also waterproof, sand proof, and dust proof, so it was built to withstand the elements, and it doubles as a bottle opener as well.
Something Extra Special
If you are stuck with what to get Dad then why not invest in a gift card at Dick's Sporting Goods. That way he can get anything he wants and this is not just limited to golf because the retailer has loads of other sports and gear to choose from. Purely from a golfing perspective the site has everything from clubs to accessories so, depending on how much you want the gift card to be, your Dad can get fully kitted out.
Got a golf trip lined up but still using the same travel bag from decades ago? Well an upgrade is vital especially if you want to keep your clubs safe and secure when travelling. Enter the Meridian from Sun Mountain, which will be your best friend on a trip.
It features an integrated leg set that retracts easily and supports all the weight of the bag for easy wheeling on all surfaces. Just like the name suggests, it simply glides around the airport and takes away any stress from your back, arms and wrists for when maneuvering it. The legs are very sturdy and the wheels roll excellently.
Has someone been dropping subtle hints that they want a new golf bag? Well this Titleist model is definitely a model to consider. It featured in our best golf stand bags (opens in new tab) guide because it has a tour-inspired, low-profile top cuff, four full-length dividers and a new premium double strap for enhanced comfort and simplified adjustment while carrying. The new strap is noticeably more comfortable and is also self balancing, meaning your clubs stay upright with no chance of falling out when he is walking the fairways. it is also waterproof and looks great as well.
The ZG21 is undoubtedly one of the best golf shoes you can buy and has been worn by a number of Tour stars this year. Tipping the scales at just 13 ounces per shoe and featuring adidas' Boost technology as well as a new Lightstrike cushioning, we were blown away by the feeling of weightlessness provided. The grip is excellent, as is the waterproofing, and the look of the shoe is modern and yet understated too, especially in the variety of colors available.
The Shot Scope Pro LX+ is the first of its kind as it offers three-in-one functionality that combines the pinpoint accuracy of a laser, the convenience of a handheld golf GPS device and shot tracking performance analysis.
The GPS and shot tracking functionality goes through the H4 GPS, which is a very compact device that magnetically attaches to the front of the Pro LX laser rangefinder.
In terms of the rangefinder itself, we liked its ergonomic shape, Slope mode and the option of a red or black display depending on the light conditions.
Golf is a physical experience and if you know someone who comes home and feels aches and pains in their muscles and back then the Theragun Mini is a device to help. It is a pocket-sized massage device that helps gives treatment to muscles thanks to Percussive Therapy which has been said to help with: improving your range of motion, hydrating tissue, faster warming up, enhancing the quality of your sleep and improving posture. We also love how portable the device is as well.
Featuring a customizable fit to deliver all-day comfort and Active Noise Cancellation, the Air Pods Pro are a joy to use (we've got them ourselves) and, whilst not entirely golf specific, are very easy and comfortable to wear whilst practicing at the range or at the golf club.
We recently tested this set and we have to say it is one of the best golf club sets you can buy. It comes with everything a new golfer needs and the quality is very high, meaning it will last a much longer time than many budget sets.
Game Improvers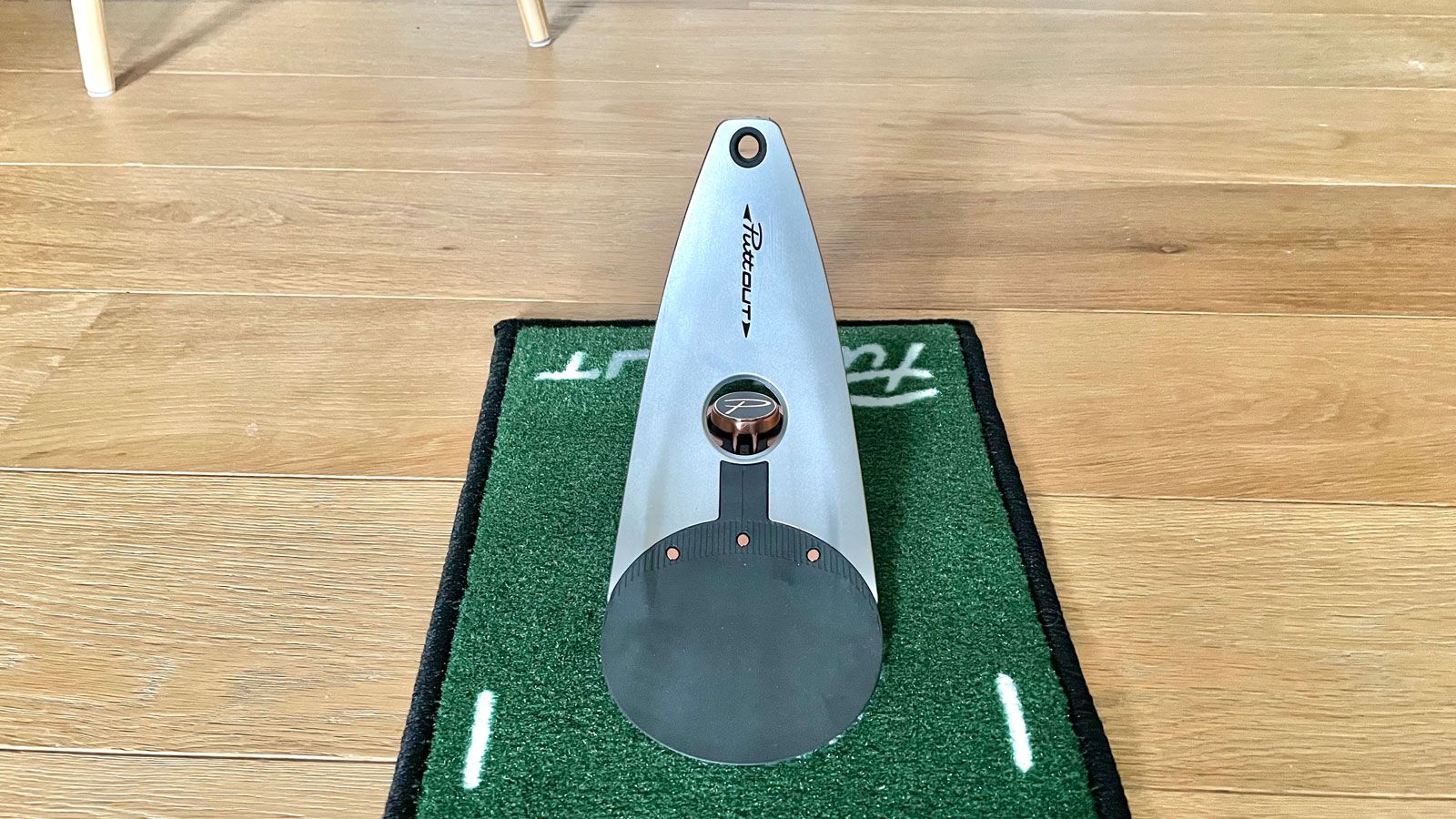 The PuttOUT Pressure Putt Trainer is quite simply one of the best and most enjoyable putting aids out there right now. Its best use is to help with pace control and finding the 'perfect putt' is a great way to focus your practice and keep it entertaining. It can also be infuriatingly tricky to get right but worth the time nonetheless.
If you know he doesn't want a watch then why not a small little GPS device that clips onto his golf bag? If so the Phantom 2 from Bushnell is a top choice. 40 per cent larger than the original Phantom, the 2 is still a relatively small device that easily fits into the palm of your hand and your golf bag.
It comes with a larger screen and much clearer graphics, and it gives clear front, middle and back distance measurements no matter which direction you are approaching the green.