Best Ping Fairway Woods 2022
Check out the best Ping fairway woods on the market right now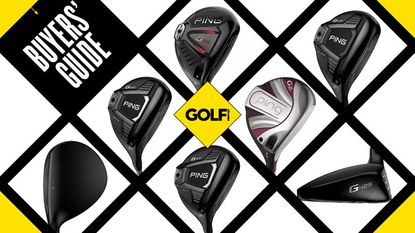 (Image credit: Golf Monthly)
Best Ping Fairway Woods
For many, many years, Ping have been producing a number of the best fairway woods (opens in new tab) on the market, with their blend of performance and forgiveness making them extremely popular amongst amateurs and professionals.
When it comes to fairway woods, they are often regarded as the hardest clubs in the bag to get right. Sitting at around 43″ long, they have to work well off the tee and from the fairway, with not a very large swing spot to play with.
Used by the likes of Viktor Hovland, Tony Finau, Lee Westwood, Louis Oosthuizen and Leona Maguire, the brand certainly knows a thing or two about producing a top quality golf club. Below, we have specifically looked at the best Ping fairway woods, with the purpose of helping inform you and assisting your buying decisions.
Alternatively if Ping isn't to your taste, we also recommend checking out our guides on the best Callaway fairway woods (opens in new tab) or the best TaylorMade fairway woods (opens in new tab).
Best Ping Fairway Woods
Why you can trust Golf Monthly Our expert reviewers spend hours testing and comparing products and services so you can choose the best for you. Find out more about how we test.
Ping G425 Max Fairway Wood
Editor's Choice
Specifications
Lofts: 14.5°, 17.5°, 20.5°, 23.5°
Unlike its predecessor, the Ping G425 Max Fairway Wood has a one-piece face, rather than a steel face insert, which has increased ball speeds on the G425 Max by up to 1.5mph. This has translated into forgiveness and distance, which puts it as one of the best fairway woods (opens in new tab) on the market and a superb all-rounder. Not only that, but Ping have removed the turbulators from the crown, making for a much cleaner, matte aesthetic.
The Max head comes in options from 3-wood all the way to a 9-wood, with the 7-wood, in particular, a very popular option for Ping's Tour players who like to use it to approach greens on par 5s. Add in the brand's proprietary Spinsistency technology, and it means that these fairway woods spin consistently so you can count on specific carry yardage and a strong descent angle into greens.
Earning a spot in our Editor's Choice Awards for 2022 (opens in new tab), the G425 Max includes an adjustable hosel with eight settings. This allows you to change both the loft and lie, meaning you can tweak the G425 to more precise specifications.
Ping G425 LST Fairway Wood
Penetrating ball flight
When you look at the Ping G425 range the world that comes to mind is versatility, with their being a suited club to every golfer.
For the player who has a quick swing speed there is the LST, which features a slightly smaller head and a strategically placed Centre of Gravity. Ping is renowned for its forgiveness and, with the LST, it is no different, with it providing a little bit of wiggle room for your strike, as well as producing a low-spin, penetrating ball flight.
Featuring the same one-piece face as the Max, it too adds 1.5mph of ball speed over the its predecessor, with the LST providing extra yardage on fairway and tee shots. Lofted at 14.5° for a driver-like, it is also very adaptable, with it possible to adjust the G425 by 1.5° up or down and up to 3° flatter, allowing the club to be fine-tuned to suit specific requirements.
Ping G425 SFT Fairway Wood
Amazing forgiveness
Reasons to buy
+
Faster ball speeds across the face versus last year's model while maintaining forgiveness
Reasons to avoid
-
Not the flashiest looking club
Not only is the G425 SFT the most forgiving fairway wood in the range, but it is also arguably the most forgiving fairway wood (opens in new tab) that money can buy. This is thanks to the weight being positioned slightly more towards to the heel to encourage a draw shape (or reduce a slice).
Once again, it features the one-piece face. However, the G425 SFT is lofted at 16° for extra forgiveness and playability, but it can also be adjusted to 1.5° up or down to provide comfort at set-up and impact.
Ping G Le 2 Fairway Wood
Striking looks match striking distance
Specifications
Lofts: 19°, 22°, 26°, 30°
Reasons to buy
+
Lightweight design delivers good distance
Reasons to avoid
-
Striking aesthetics may not be for everyone
There is an awful lot to like about the Ping G LE2 Women's Fairway Wood, with its lightweight feel meaning an increase in swing speeds and distance.
Ranked as one of the best women's fairway woods (opens in new tab) on the market, the G LE2 has the same steel face material, as well as the same adjustability options so you can get things just right.
We see yet more forgiveness and performance within the shallower face, which helps not just get the ball in the air, but also provides plenty of forgiveness. Available in a 3, 5, 7 and 9 wood, you really can't go wrong with this option from Ping.
Ping G410 Fairway Wood
High ball speeds
Specifications
Lofts: 14.5°, 17.5°, 20.5°, 23.5°
If you're after a slightly older Ping fairway wood, the predecessor to the G425 is still widely available. Of course, this will now only be available in a standard fit so bear that in mind, but they are still a great club.
This has a slightly shallower face than its predecessor the G400 and is designed to deliver higher ball speeds through a re-positioned centre of gravity closer to the face and sole. It's estimated that it might carry an extra five yards over the G400.
All three G410 models feature an adjustable hosel with eight settings so you can change both your loft and lie and the emphasis is on stability and forgiveness. It may be the older model, but it is still seen regularly on the professional circuit.
How we test fairway woods
When it comes to Golf Monthly's testing procedure, we use the same ethos and methodology for all golf products to make sure they are as insightful, honest and comprehensive as possible.
When it comes to golf clubs, we usually attend product launches so we can meet with the manufacturer's R&D experts to understand the new technology.
After we have an understanding here, our first port of call when hitting clubs is usually the indoor simulator at Foresight Sports, where the team can test in a controlled environment using premium balls and the GCQuad launch monitor. We also use TrackMan at golf facilities across the UK.
We then do outdoor testing, usually on ranges at West Hill Golf Club, Surrey, The Wynyard Club in Teesside and at Brancepeth Castle Golf Club in Durham. We then put the clubs into play out on these golf courses.
Specifically for fairway woods, product testing is headed up by Matthew Moore (opens in new tab), a 1-handicapper with many years of experience in the golf industry. He is ably assisted by technical editor Joel Tadman (opens in new tab), and digital editor Neil Tappin (opens in new tab).
All three have been testing clubs for many years, and can efficiently test the vast majority of the biggest product releases and convey the pros and cons eloquently.
What to consider when buying a fairway wood
Loft - Figure out the specific gap to be filled in your golf bag. Ask yourself how far does my driver go, and how far do your longest irons or hybrids go? Knowing this will dictate the ideal loft for your fairway wood.
Forgiveness - Some fairway woods are more forgiving than others, especially because many manufacturers create different models for different levels of player. For example, there are four different Cobra LTDx fairways with different head sizes, shapes and they are designed for different golfers. If you need as much help as possible, the LTDx MAX (opens in new tab) will work for you, whilst if you are a better player and strike is more consistent, then forgiveness may not be a key factor for you.
Adjustability - Most modern fairway woods come with a degree of adjustability, whether that's loft, moveable weights or shaft fittings. Think about how important adjustability is to you, because you can change the characteristics of a club's performance with a turn of a wrench. Or, you can keep things simple and opt for a non-adjustable model with a stock shaft you hit well.
Versatility - Fairway woods must work well off the tee, on the ground from different lies and even around the green. If you have a model that works in only one of these areas, then there may be plenty of improvement and flexibility in upgrading your fairway woods.
Looks - You have to like how a golf club looks, especially when looking down on the golf ball. The fairway wood is one of the most difficult clubs to hit, which is why you need something that gives you confidence and may even spark a pang of jealousy in your playing partners. Our advice is go and pick several models, see how they look and feel in your hands and test them in a variety of situations and lies.
Budget - Be aware of your budget. You can go for more premium models, such as the TaylorMade Stealth Plus or Callaway Rogue ST LS (opens in new tab) or you can opt for cheaper designs like the Wilson Launch Pad. Wherever you fall in budget, our guides will present you with good advice on buying a new fairway wood.