Best Golf Shot Tracking Apps And Devices 2022
We list our favourite shot tracking apps and devices to help you get the most out of your game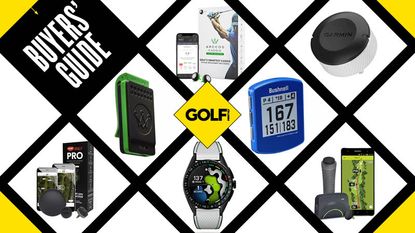 (Image credit: Golf Monthly)
Best Golf Shot Tracking Apps and Devices
Artificial Intelligence has changed the way we play golf in the 21st century and, thanks to an array of golf GPS apps and tracking devices, individuals can see their stats like never before, accessing all kinds of data about their game to really pinpoint where strengths and weaknesses lie.
They are fantastic bits of kit and can really help you improve and lose strokes out on the course. What's more, they aren't overly expensive or awkward to use, with many devices coming in compact forms or focusing on simplicity.
Lots of the devices and apps in this guide also use A.I. and Strokes Gained Analysis to help you understand exactly where you can make up those all important shots. Below, we list the best golf shot tracking apps and devices on the market to help you pick which is best for you.
Also, we recommend taking a look at our other golf GPS guides too - such as the best golf GPS apps, best golf launch monitors, or the best golf GPS.
Best Golf Shot Tracking Apps and Devices
Why you can trust Golf Monthly Our expert reviewers spend hours testing and comparing products and services so you can choose the best for you. Find out more about how we test.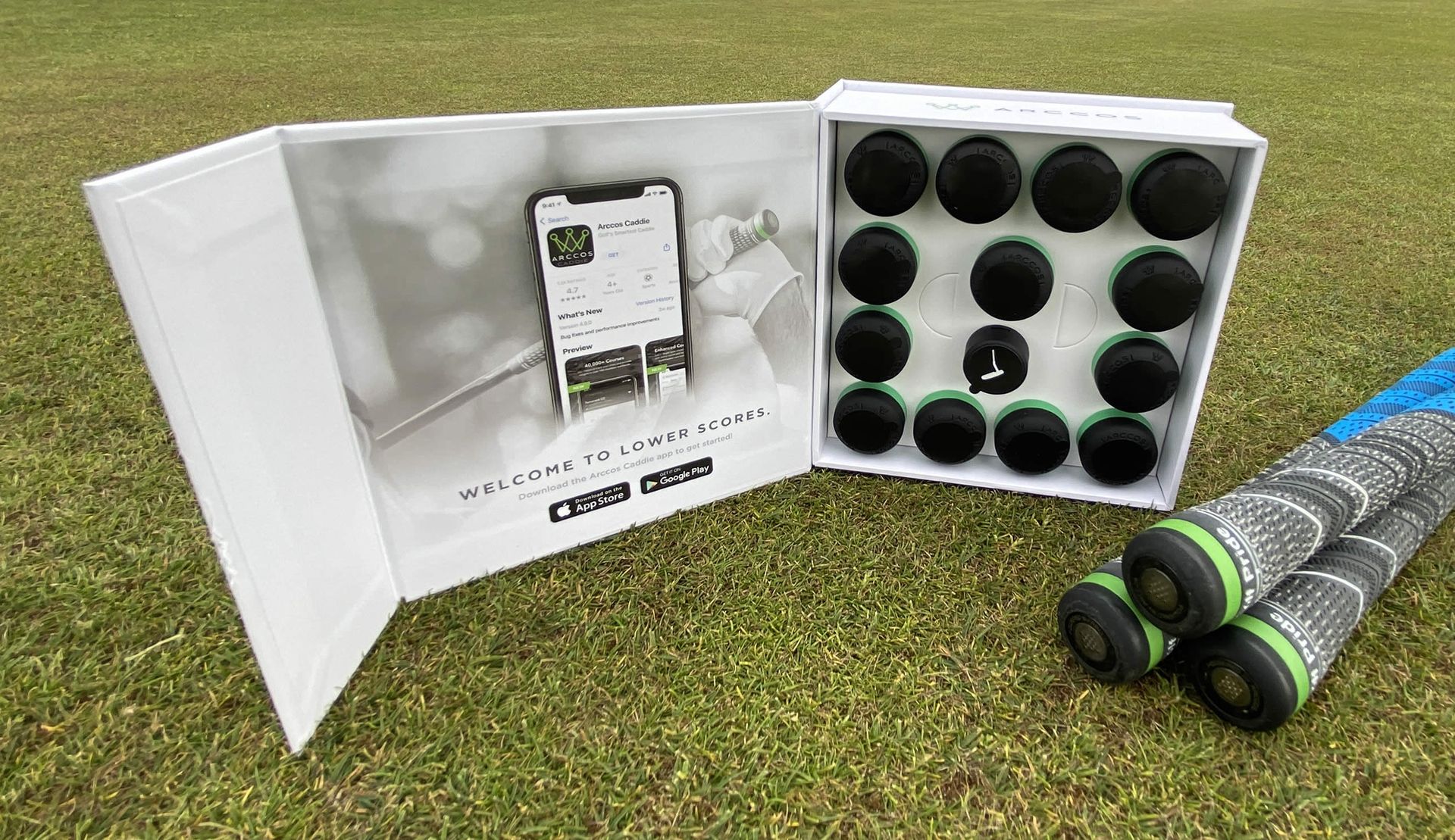 Our Pick
Reasons to buy
+
A passive system that unlocks so many crucial insights that are then presented in a dynamic, easy-to-digest dashboard
Reasons to avoid
-
Shots can sometimes go undetected, which requires post-round editing
Arccos is one of, if not the best game tracking systems, on the market. It measures all the data you can possibly need thanks to Arccos Smart Sensors in the end of your clubs. For some clubs, like Cobra and Ping, they already come with them fitted into the grips.
Typically, you will need to keep your phone in your left pocket (for a right-handed player) for the sensors to work, but you can purchase the Arccos Caddie Link which clips on to your belt and removes the need for having your phone in your pocket if this is too uncomfortable.
The system gives you information on how far you hit each club. It also provides real-time yardages taking slope, wind speed, temperature, humidity and altitude into the equation. The caddie advice, powered by your data, shows your likely shot outcome and recommends a club for you to hit based on your previous performance.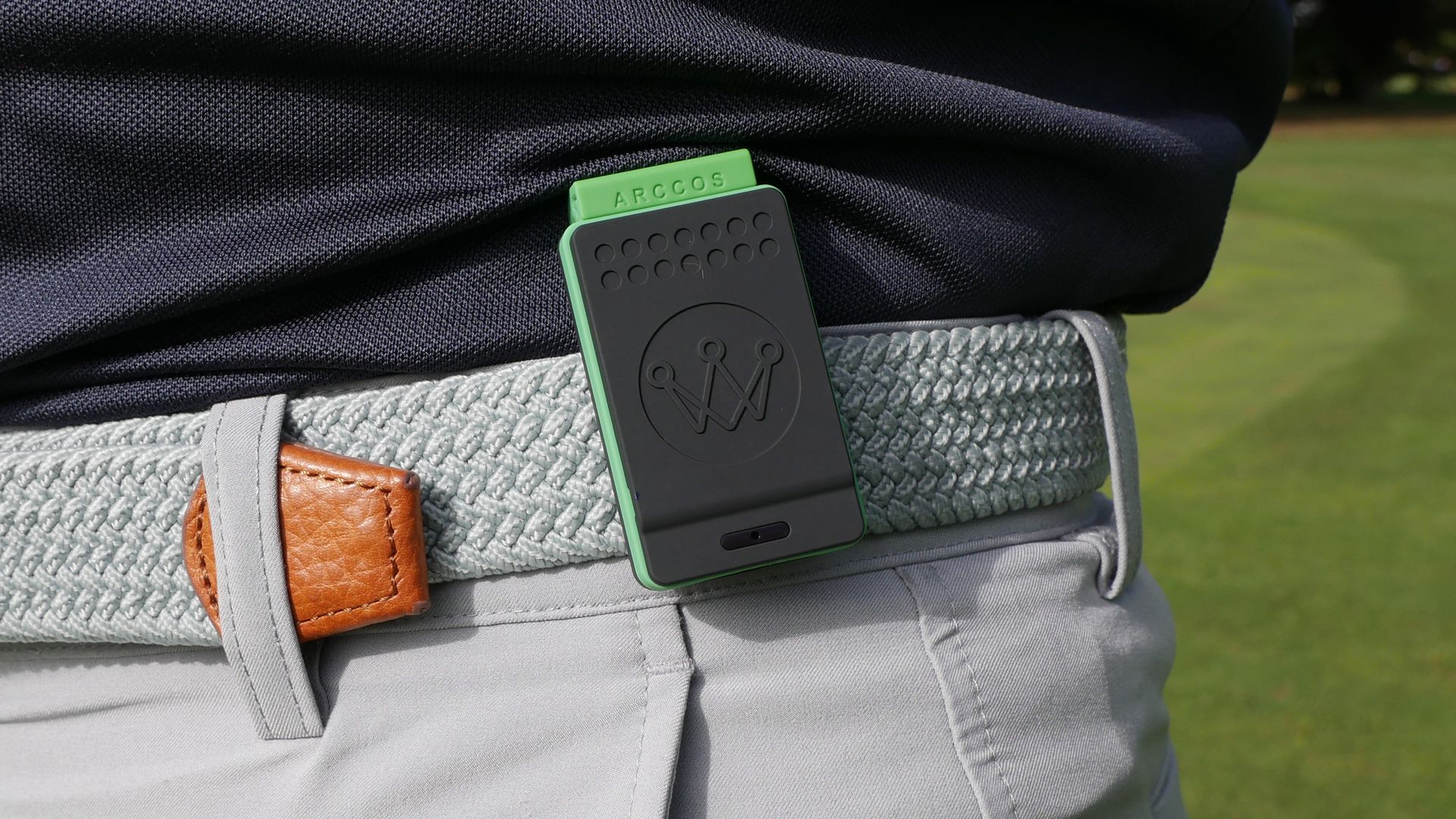 Best Additional Accessory
Reasons to buy
+
Removes the need for a smartphone on course
+
Easily clips to pocket or belt buckle
Reasons to avoid
-
Must have a set of Arccos sensors or grips to use
Sticking with Arccos and the new Caddie Link, which has made a huge difference to the usability of the app and trackers.
It clips easily on to your belt or trouser pocket and pairs to your phone via Bluetooth. This means that you can now store your phone away in your golf bag and get on with your round whilst only accessing the Arccos app on your phone for yardages and caddie advice functions if you want.
Using the Caddie Link allows for an even more seamless integration with the Arccos Caddie Smart Grips and app which we loved. This is because we didn't need to keep our smartphone in our pocket anymore.
When on course, pressing the centre Caddie Link when next to the pin will also log the exact location of the pin on the app, allowing for even more accurate data when logging your short game.
It lasts 10 hours, so should be enough for 36 holes, although if it runs out of juice you can switch back to your phone.
Stunning Looks Make For Impressive Performance
Reasons to buy
+
Offers seamless shot measurement with no need for tags in clubs
+
Bright, detailed display and partnering app
Reasons to avoid
-
Very expensive given the level of features
This premium, luxury watch features an ultra-lightweight 45-mm black titanium case and a matte black ceramic bezel with 18 engraved and lacquered graduations that serve as a reference for the performance at each hole.
The crown is now flanked by two functional pushers at 2 and 4 o'clock, to be used alongside the TAG Heuer Golf app to record shots and shot distances with optimal precision in action. Another thing worth mentioning is the graphics. The hole maps are really clear and, now that you can twist the main dial to scroll, it's really straightforward to pick out certain points you want to hit to.
One of the most interesting features on the Connected Golf Edition is the 'driving zone' feature. Once you've connected the watch to the app, this feature will plot all your drives on a certain hole and colour code the positions based on your scores. Oh and it has to be one of the best looking golf watches out there too and comes in a box with three TAG Heuer golf balls, four TAG Heuer tees, a divot tool and additional black strap.
Shot Scope H4 GPS
Functional And Compact Device
Reasons to buy
+
Superb performance
+
Compact
+
Extremely functional
Reasons to avoid
-
Manual club tagging required
A compact GPS that provides shot tracking functionality, the H4 GPS is a superb performer that usually features alongside the Shot Scope Pro LX+, a device that is the first of its kind in offering the pinpoint accuracy of some of the best laser rangefinders out there, while offering the convenience of a hand-held golf GPS device and shot tracking performance analysis.
In this piece though, we are specifically looking at the H4 GPS, which is a very compact piece of kit that not only charges quickly, but can locate the golf course that you are playing in seconds.
From there, the H4 GPS provides a wealth of information, such as distances to reach and carry bunkers, hazards and lay ups, as well as the usual distances to the front, middle and back of the green. However, the device also tracks your shots and, because it is pocket-sized, it isn't at all distracting.
Being easy to use, all you have to do after your round is sync the collected data to the app via your smartphone - it takes a few seconds and our testing showed that it hardly missed a shot. It even added in a drive off the tee by default when we'd forgotten to tag it and flagged potential errors, like an out of character 390 yard drive or 40 yard putt.
Accelerates the rate of improvement
Reasons to buy
+
Innovate device that connects feel and real
+
Real time feedback on your hand position initiates rapid change
+
Variety of training modes
Reasons to avoid
-
Takes time to get used to how it works
-
Challenge feature could be better
Golfers are always looking for ways of improving their swing quickly and, with this Training Aid by Dewiz, you will do just that, as a 3D image of your swing is produced and displayed in the app which you can pair via Bluetooth.
Dewiz was developed by Swedish golf professional Markus Westerberg and Christian Bergh who worked alongside a neuroscientist to integrate the learning stimuli for 15 years. It uses real time biofeedback to help golfers modify their swing and implement changes quickly and more effectively. It comprises of a wristband, which you wear on your lead arm and features an internal motion sensor chip that analyses movement in three dimensions.
Once paired with the app, you are open to a range of data possibilities which include your hand speed at a specific point of your swing, as well as the length of backswing, backswing plane, transition and tempo. The transition analysis is especially interesting for slicers, as Dewiz can tell you by how much your swing plane changes when your hands get thrown to the outside at the start of the downswing.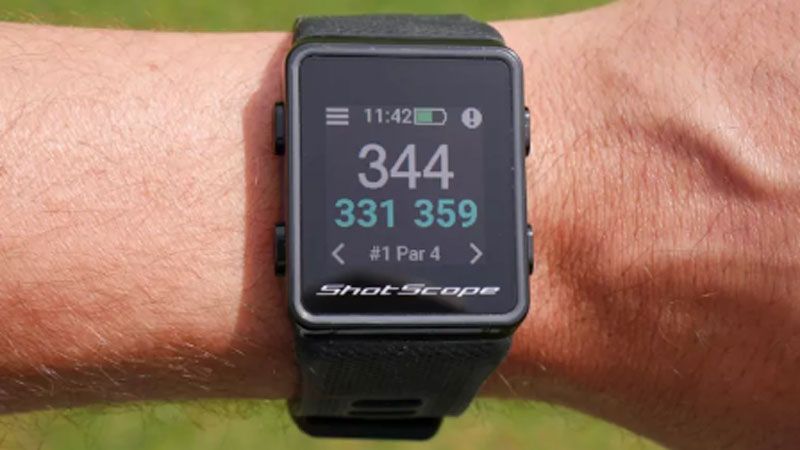 Best Watch And Sensor Combination
Reasons to buy
+
Watch is small but is still easy to read and use
+
Sensors are accurate and not too large on the end of the grip
Reasons to avoid
-
Can occasionally miss shots
Another device from Shot Scope is the new Shot Scope V3 watch, which is a big step forward from the already-brilliant V2. It's much smaller and nicer to wear, and offers up GPS yardages as well as automatic shot tracking functionality thanks to tags in your clubs.
During play, the only thing you need to remember to do is hit the PinCollect button when retrieving your ball from the hole as everything else is done automatically. This marks the pin position and saves editing time afterwards.
The GPS distances are quick to update and comparable with other some of the best golf watches we have tested. You will also be able to access a plethora of data on the app, including birds-eye views of the courses you've played and where your shots have gone.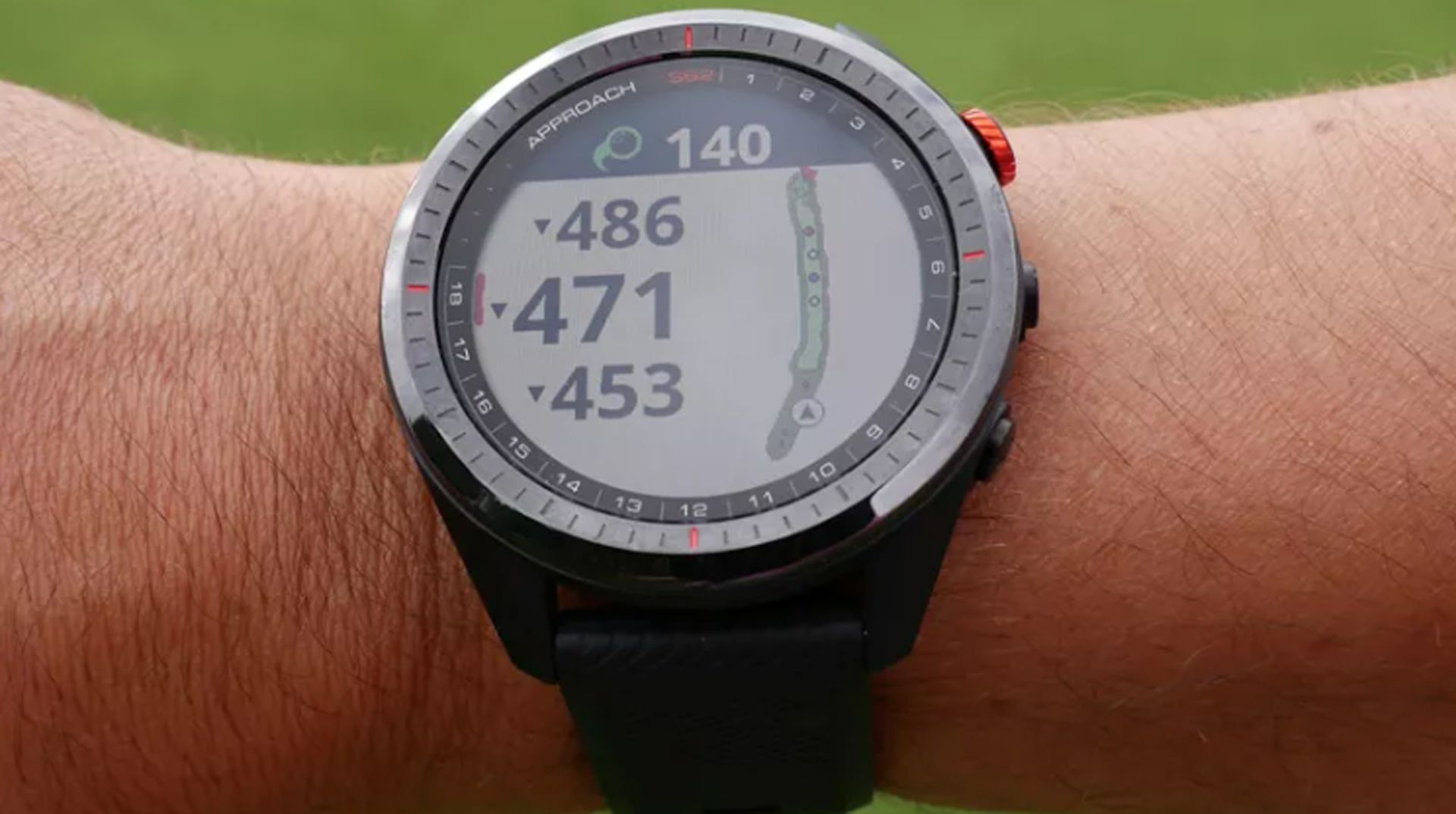 Best For Garmin Watch Users
Reasons to buy
+
Modern, cutting-edge styling
+
Wide ranging features suitable for off-course use
Reasons to avoid
-
Hole map graphics look dated
Already ranked as one of the best Garmin golf watches that money can buy, the Garmin Approach S62 is one of the most recognizable models in the range and, thanks to the ability of shot tracking, it is also one of the best devices for when you want to learn about your game.
The watch provides the standard front, middle and back yardages, as well as distances to hazards. However, you can also enable shot tracking, which can tell the watch what club you hit after each shot and, after five rounds of doing this, the Virtual Caddie feature becomes available, suggesting clubs to hit for upcoming shots.
Although it's not legal in tournament play, it's a nice feature to have recommendations on clubs from a device that knows how far you actually hit each club rather than what you think, as long as you make sure not to include poor strikes, chips out from trees or shots into a strong wind when inputting your shots.
Another nice bonus, is that you can use Garmin's Approach C10 sensors with the S62. These screw into your golf clubs and then pair with compatible Garmin golf watches to automatically track every stroke, including locations, distances and club type.
Best Accompanying App
Reasons to buy
+
Excellent, free accompanying app
+
Works brilliantly without the app as a GPS
Reasons to avoid
-
No specific shot-tracking
This device is a little different to the ones so far in this guide, in that it doesn't come with sensors for the top of your club.
The Bushnell Phantom 2 however is an excellent little GPS and provides clear front, middle and back yardages to greens, which allows you to place an exact pin location and track how far you've hit a shot too.
It also comes with the accompanying Bushnell app for free, and the recent update has arguably made it one of the best golf GPS apps around. Providing you with full diagrams of holes, the app also allows you to track your scoring and locate a precise yardage from where you are stood from the hole. You'll have to have your smartphone with you out on course to use the app to its fullest, but if you don't mind that then this GPS and app is a smart option.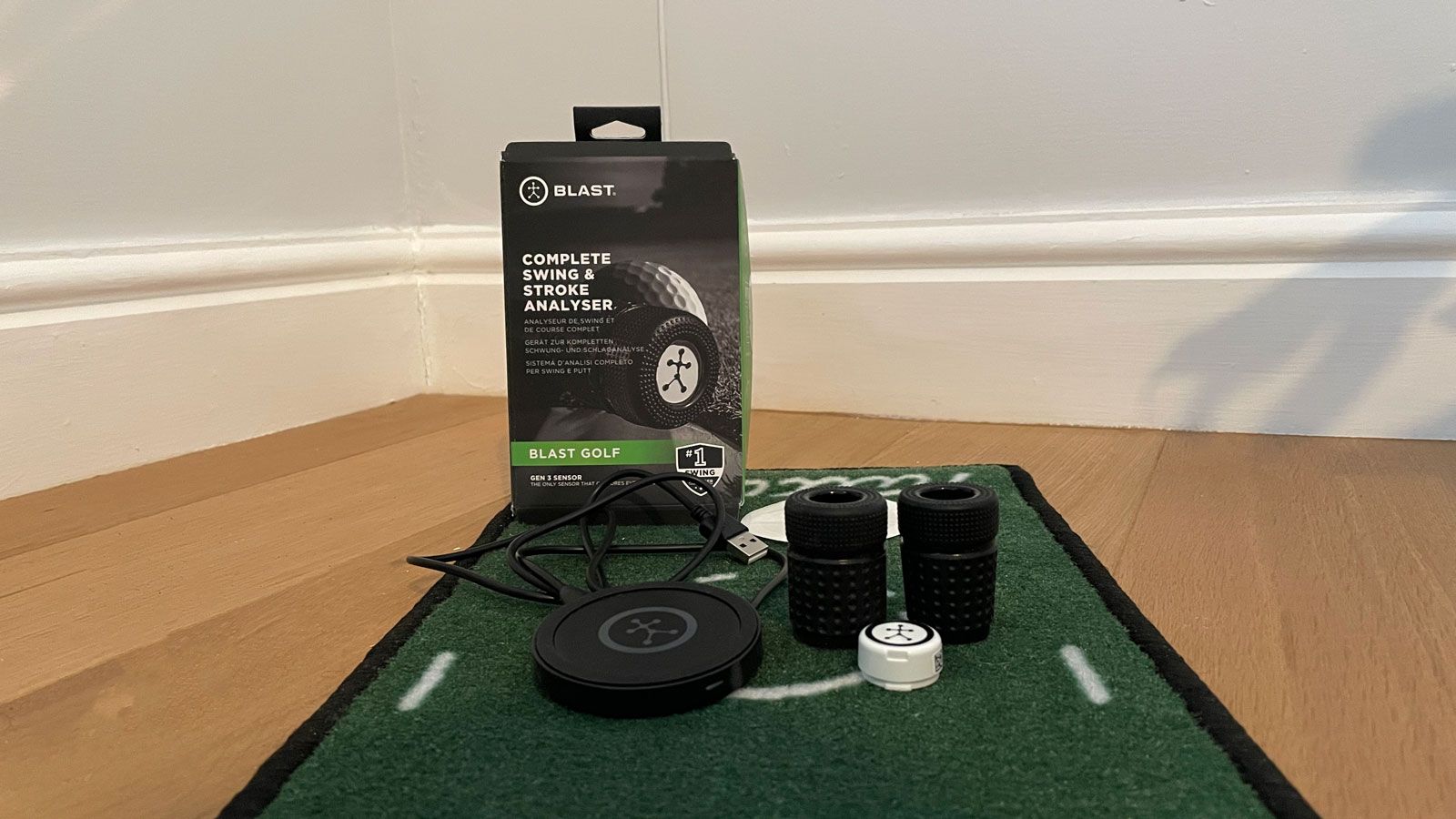 Clever device that will help your ball striking
Reasons to buy
+
Measures a huge amount of metrics
+
Instant feedback via an app
+
Encourages meaningful, focussed practice sessions
+
Can be used indoors or outdoors
Reasons to avoid
-
Sensor attaches to clubs rather awkwardly
-
Beginners will struggle to comprehend the data
The Blast Golf Swing Analyser is a sensor that attaches to the grip of any golf club and gathers data about your swing. Alongside the free app, the swing analyser captures an incredible amount of data about your golf swing and quickly feeds back that information so you can work on things like tempo and attack angle to achieve a better swing.
It is seriously impressive, however, it can be initially an overwhelming experience if you are not familiar to the game of golf, or a newcomer. However, if you know statistics like angle of attack, swing tempo ratios and peak hand speed, this device will feed the data-centric way of improving your golf swing.
Once setup, it is quite simple to use, as a simple red, amber and green banner lets you know when you're in the right part of a specific metric. It really is a fantastic way to practice with some intent on the range, as opposed to aimlessly hitting balls.
How we test the Best Golf Shot Tracking Apps and Devices
At Golf Monthly we have a comprehensive testing procedure around golf shot tracking apps and devices. As you would expect, this involves using different models on the course, over a number of rounds and importantly in different conditions too because this gives us an idea on how particular models deal with sunlight, rain and wind.
As the entire team are regular golfers, these devices usually get a thorough testing and often get compared to others that are available on the market, that way we can give honest and insightful feedback to you, the reader. The final thing we wanted to mention in this section is no manufacturer can buy a good review. Our testing team reviews golf equipment and makes its own opinion on how good or bad the product is. For information on how Golf Monthly tests its products (opens in new tab), click here.
How to choose the correct golf shot tracking apps and devices
What are some of the factors that need to be considered when choosing the best golf shot tracking apps and devices...
Ease of use - These devices are jam-packed with technology so it is important that they are easy to use. Everybody wants to get the most from their purchases and, with tracking apps and devices, it is no different, with simplicity being the key factor as you use this technology out on the course.
Features - It is important for you to know what you want to use the device for. There are many that give information in terms of distance-tracking and accuracy, but are they consistent? Is your 7-iron regularly going the same yardage, or are the distances a bit up-and-down? Another feature is the consistency of the tracking. If the device keeps missing shots out on the course, you don't want to spend time sorting it out after your round has finished. All of these features are crucial to your enjoyment.
FAQ's
Can I use my phone as a yardage device?
Yes! Many of the devices listed above can be linked to your smartphone and used as a yardage device. Although you use tags with Arccos, the device's information goes straight to your phone, giving you extremely accurate yardages.
Are golf shot tracking apps and devices
We think so, certainly they can help pinpoint the weaknesses and strengths in your game, as well as give you a clearer idea of yardages with your clubs. It's very important that golfers know this information because they can save a lot of shots out on the course and, at the end of the day, who doesn't want to get their handicaps lower!