Best Golf Rangefinders 2022
A rangefinder can make a significant difference to your golf game. Here, we take you through the best currently available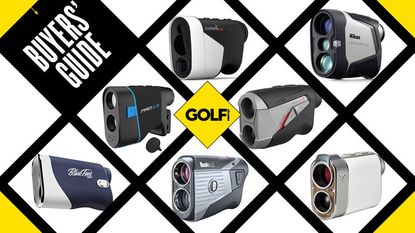 (Image credit: Golf Monthly)
Best Golf Rangefinders
When it comes to distance measuring devices you have have three options. There are golf GPS', watches or, like we are looking at in this piece, rangefinders, with the latter heavily increasing in popularity over the last few years.
The reason for their rise in popularity is that they provide golfers with the most accurate reading to the flag or the desired target. Gone are the days where players need to scramble to find sprinkler heads or check course guides, now they can simply pick up their rangefinder, scope out the target and zap it, before a yardage is displayed. It's really that easy!
You don't have to necessarily use them for identifying the yardage of the flag either, with a rangefinder also being useful when working out the carry of hazards like ditches and bunkers. If you know how far the targets are, it will help you avoid mistakes and lower your scores out on the golf course.
However, it's not just accuracy where a rangefinder must perform, they must also have ease of use, waterproof protection, longevity, durability and some degree of value too. In the video below, we have tested 13 of the latest and best models on the market to find which one is best suited for your golf game.
VIDEO: Watch rangefinder expert Joel Tadman test 13 of the latest models on the course
There are many reasons as to why many golfers favor rangefinders over the best golf watches and best golf GPS devices, with players preferring the convenience and speed you find in the device. What's more, rangefinders run on batteries, which means they can be left in your golf bag between rounds and therefore provide a much more hassle-free user experience compared to GPS units, which often need regular charging.
As is the case though when it comes to technology in golf, you are truly spoilt for choice when deciding on a new rangefinder. Are you after a model used by those on the professional circuit? Or perhaps you are looking for one of the best budget golf rangefinders that won't break the bank.
Thankfully, Golf Monthly are here to help and, after extensive testing, we've picked out the best and our favorite models, ranging from the cheapest to the most expensive. Plus, if you're buying a rangefinder for a loved one or relative over the holiday period why not also check out our ideas on the best Christmas golf gifts (opens in new tab)!
Best Golf Rangefinders
Best Cheap Rangefinders
As our other equipment guides have proven, we have become fans of Inesis gear of late and the same can be said of this rangefinder. Not only is it competitively priced, but this unit boasts a Slope Compensation switch so you can toggle on and off slope-adjusted distances.
We actually put this model up against a more expensive model and we found it more than kept up with accuracy and ease of use. It features a First target priority function that isolates the flag, while measurements are confirmed by vibration and, rather importantly, it is accurate to +/- 1 yard and can measure in both yards or meters.
You also get 6x magnification, so you get a clear view when looking through the viewfinder and we also liked the weight, durability the way it sits well in the hand. Additionally, you also get a very sturdy case which is really nicely made, along with some instructions, a cloth for cleaning the lens of the rangefinder, a CR2 battery and a clip that allows you to attach the rangefinder to your bag.
Blue Tees Golf is a relatively new name in the industry and it has a simple strategy - To create premium performance products at an affordable price. On the whole, we think the Series 3 Max stuck to that ethos.
One of its best features is the crystal clear display, which is beautifully sharp and crisp, whilst the lock and vibration features assures the user that they have the correct target, which means less guesswork and time spent on reshooting for distances.
Another feature that really stood out to us in testing was the speed at which the distance was displayed - there really is no delay in getting the number you need. All in all, and aside from the magnetic strap which could be improved, this is an eye-catching device, especially given it is available in three colors: navy, black and pink.
When it comes to a rangefinder, some just want it to be simple to use and, with this Voice Caddie L5, that is certainly the case. Like many other models, it has Slope functionality and it also has two modes - Normal and Pin, with the former useful for continuous scanning so, if you're picking out certain bunkers to avoid, then this is a great addition.
In Pin mode, the main reading that it gives you is the one that's been calculated with the Slope so below it will tell the actual distance and how much it's playing up or downhill. All distances come in yards and are even given in decimal places which is some level of detail.
The last noticeable aspect of the L5 is the size of it. It fits so easily into one hand that it makes it so straightforward to use. The case is sturdy and easy to get in and out of through an elasticated opening but, if you just want to have it quickly to hand, then it's so small that you can simply leave it in a handy pocket.
If you're after a compact, yet premium rangefinder with all the bells and whistles, then this is your best bet. The GolfBuddy Laser Atom Rangefinder is one of the smallest rangefinders on this list, making it easy to carry and handy to use. But its size doesn't detract from how much it can deliver, with this rangefinder packing a punch in terms of what it can deliver. It can seek and pinpoint accurate distances to targets up to 880 yards away, boasts a battery life that will see you get 5000 actuations in, and comes in a luxurious protective case that you can slip in your pocket or attach to your bag.
Once you're out on the course, you'll see how useful this rangefinder can be, using its scan mode, pin mode and slope compensation - which you can turn on and off. It is very easy to use and the bright LCD display is easy to read coming in big and bold text. The unit will also vibrate when you lock onto the flag, even on busy backgrounds. The premium carry case meanwhile adds an extra element of class to your golf bag, being made of a luxurious ivory coloured textured leather and with shiny chrome, screw-style carabiner.
ZOOM is a brand that has made big strides in the rangefinder category over the last few years. First came the Focus X, then the much-improved Focus Tour – and now we have the new Focus S, which combines the best of the two previous models.
The S tested well for us thanks to excellent vision, fast target acquisition, impressive accuracy, x6 magnification, vibration feedback and slope mode. It comes in a sturdy case and the overall look of the design we liked as well - both the black and black/silver options look stylish, whilst its ergonomic design allows the device to sit perfectly in the hand.
The TecTecTec KLYR rangefinder is a standout at its price point, and it also recently made our list of the best budget golf rangefinders. It's compact design is easy to handle and it weighs less than 1.25 pounds.
Given its lightweight nature, it also offers clean, vibrant display optics and retrieves yardages quickly. It also proved to be extremely accurate in our testing and it has many of the features that golfers look for in a rangefinder, including slope functionality, which can be disabled during tournament play, and target lock vibration.
It's range measures up to 800 yards and fares well when shooting from longer distances. It also has a magnet on its exterior, that allows the device to be secured to a riding cart during play, and it comes with a magnetic belt clip that allows golfers to essentially wear the device when they're not using it during round. The KLYR is also available in three stylish colors: yellow, black, and white.
The Laser Lite is one of the best GolfBuddy rangefinders on the market and offers superbly quick measurements of just 0.5 seconds. What's more, this entry-level Laser Lite vibrates when the target is locked, provides slope adjusted distances and boasts three modes (Normal, Scan, Pin) for different situations.
Normal mode enables you to get a distance for anything you aim at and confirms it with a vibration when you're locked onto something. Scan mode allows you to move between different targets with their distances each displaying up to a total of 10 seconds, while Pin mode helps you identify the flag when there are obstacles behind it by starting off it and then moving onto the pin, with a vibration when it locks on.
In our testing, we found Normal mode to be effective and Pin mode to be excellent. However, Scan mode seems a bit redundant given the quality and ease of use of the other two modes. Finally, it weighs under 0.5 pounds and also offers IPX4 Level water resistance, making it one of the best golf rangefinders money can buy given the modest price tag.
Compact and weighing just 130g, the Nikon Coolshot 20 GII features a First Target Priority algorithm that is designed to make sure you measure the closest object when there are things overlapping – such as trees behind the flag. It can also measure continuously for up to eight seconds when scanning the terrain.
This is an excellent feature to make sure you get the yardage to the flag if your hands are a bit shaky, or you want to give yourself as much information as possible about where hazards, trees and mounds are positioned around the flag. From an aesthetic point of view, this Nikon really looks good with the white and black contrast and it also offers good value given the modest price tag.
Best Feature-Packed Rangefinders
One of the most unique rangefinders on the market, this distance measuring tool from GolfBuddy certainly breaks away from the mold of the traditional golf rangefinder, and there's a lot to like here. The Quantum packs in a ton of features, but is one of the most compact rangefinders on the market, shorter in height than a credit card. Having took this laser for a spin on the golf course, we loved the design and how the device sat in our hand. It boasts three targeting modes, including a Scan mode that provides 10 seconds of continuous measurements as you pan the horizon.
The Pin mode, does as it says, picks out the flag on a busy background, and will vibrate when it's locked on. The Slope function, which can be turned on and off, will deliver accurate readings that are compensated by slope. One of the coolest things about this rangefinder is the excellent carry case it comes with. You can attach it to your belt or golf bag, and it unfolds quickly to reveal the rangefinder which can be pulled out and pointed at any target on the golf course. It charges up via USB C cable and you'll get 5000 uses per charge out of it, making it one of the best for battery life.
The cutting edge SL2 Active GPS Hybrid from Voice Caddie is sure to be popular amongst Tour players and club golfers who are keen to shoot lower scores and improve their game.
To begin with, there are numerous features available in what is a state-of-the-art device. Arguably, the most impressive part is the hole layouts and green yardages, with the rangefinder providing a bird's eye view of the hole to help you to identify danger. It also gives you a green light of when to attack.
However, what really sets this model apart is the undulation data that it provides. Each green looks like a heat map, with different colors highlighting the severity of the slopes up ahead on the putting surface.
Finally, the design team at Voice Caddie took their inspiration from luxury yachts and, as such, it has white leather and aluminum exterior which really is premium. The case adds to that allure as well.
The Shot Scope Pro LX+ is the first of its kind as it offers three-in-one functionality that combines the pinpoint accuracy of a laser, the convenience of a handheld golf GPS device and shot tracking performance analysis.
The GPS and shot tracking functionality goes through the H4 GPS, which is a very compact device that magnetically attaches to the front of the Pro LX laser rangefinder.
In terms of the rangefinder itself, we liked its ergonomic shape, Slope mode and the option of a red or black display depending on the light conditions. The speed at which the distance is displayed is much faster than on the Pro L1 rangefinder, but it struggled at times when the flag was set against a busy background.
Bushnell are arguably the most recognized brand in the rangefinder market and, with their Pro X3, it appears that continues to be the case. Not only is it fully waterproof, but the weighty feel performs superbly in windy conditions.
It is crammed with technology such as Slope Functionality and also has a Dual Display button which changes the graphics from black to red to make them more visible in duller conditions. It even boasts elevation change.
The last impressive initiative is that you can pair the Pro X3 device with the Bushnell Golf app (make sure you download the new version) via Bluetooth. From there, you're able to alter the settings far more easily, as well as save stats, games and course information and update the firmware. The app, which is free when you purchase a Bushnell product, also provides full color GPS hole maps with a moveable pointer and flyovers, helping you out on blind shots or if you're unsure as to what lies ahead.
The Approach Z82 provides 2-D overlays for both full-color Course View and Green View detail through the lens. When looking through the viewfinder, a full-color 2-D Course View mapping is displayed on the left-hand side of the lens view, showing distances to hazards and the green. The flag finder feature meanwhile, will lock on the flag and give precise distances to the pin.
Other features include a Laser Range Arc, which will be drawn on the green at the distance ranged to the flag, so the golfer can see if the pin is in the front, middle, or back of the green. The arc can also be used to see what else is in play when ranging other targets on the course.
There's also a PlaysLike Distance feature that accounts for slopes and also a Pin Pointer feature, which points to the middle of the green on blind shots. This is undoubtedly one of the very best golf rangefinders you can buy. While it's premium priced, the user experience is second to none and the way GPS technology and hole maps have been incorporated into a rangefinder is extremely impressive.
The Q-6 Slope rangefinder from Cobalt Golf is an impressive device on a number of levels. In our testing, it provided some of the most exceptional display optics we've seen from a rangefinder, while also offering impressive speed and accuracy in terms of capturing distances. It also looks sharp visually and, when in hand, offers a sturdy, durable feel that is the result of its quality construction.
We also found the Q-6 Slope to be quite user friendly in terms of its design. Players can use Cobalt's SmartSwitch, located on the side of the device, to turn slope functionality off and on as needed for tournament play, while also adjusting the brightness of the display to account for playing conditions. Additionally, there's a button that enables players to easily switch back and forth from yards to meters.
The Q-6 Slope is also fully waterproof and comes with a durable carrying case. In fact, Cobalt actually offers a lifetime warranty to repair or replace any device that becomes defective or damaged during use. In terms of performance and functionality, the Q-6 Slope is one of the elite rangefinders on the market.
Bushnell are a brand synonymous with high-quality GPS equipment and the Tour V5 and V5 Shift continue that trend. Both come packed full of technology such as Bite, which is a magnetic mount and Pinseeker with visual JOLT technology, which is a red ring that flashes as JOLT vibrates to give the golfer even greater feedback and confidence to know they have locked onto the flag.
In terms of ease of use, it couldn't be simpler, just point and shoot, then the flag is picked out quickly thanks to the crystal clear display and adjustable Fast Focus System toggle. You can also change from meters to yards in a flash with the button on the side too.
The difference between the Tour V5 and the Shift is that the Shift comes with a new and improved slope algorithm and Slope-Switch technology which allows the user to turn the slope function on or off. Both are waterproof which is an excellent feature and they also come with a sturdy carry case as well, making it one of the best golf rangefinders on the market right now.
Best Rangefinders For Simplicity
The water resistant Laser 2S comes in a premium carry case and weighs 218g, which strikes the perfect balance of being stable but not tiresome. It also has a boxy shape, which we found fitted well into our hand when testing.
Like other GolfBuddy models, it has the three modes - Standard, Scan and Pin - which are accessible via the button on top. All three are very handy when assessing the terrain, especially on elevated tee shots.
The display itself is also large, bright and clear, with even dimmer conditions not being an issue. There is also the handy addition of a focus dial around the eyepiece, but when we tested it we never needed to call upon it to adjust our view and improve the clarity.
The Coolshot 50i strikes a nice balance between being reasonably priced while offering a competitive level of features. In your hand, the grippy textured sections on the top and bottom mean you're unlikely to drop it, but coming in well under 200 grams means it's a little shaky in the wind and it doesn't have the stabilization feature of the Coolshot Pro II Stablised model to negate this.
The red graphics in the display are bright - helpful in overcast conditions - and the optics are generally very impressive. We were able to gun everything we wanted to, with the distances flashing up quickly.
This model though is for the golfer with a steady hand who plays a lot in a buggy and wants the option of slope-adjusted distances available.
One of the lightest rangefinders you'll find and also one of the smallest. Despite this, it still seems to fit well but keeping it steady is a little more tricky. The display is surprisingly wide and bright, especially in dim conditions and you can change the opacity of the graphics if you feel the urge.
You can access a decent level of features within this rangefinder and, on the whole, it seems intuitive to navigate through them and get the distances you want. It perhaps lacks the wow factor but, for the price, there is competitive value for money for golfers seeking a faff-free user experience as well as the option of slope-adjusted yardages.
How we test for the best golf rangefinders
At Golf Monthly we have a comprehensive testing procedure around rangefinders (opens in new tab). As you would expect, this involves using different models out on the course, over a number of rounds and importantly in different conditions too because this gives us an idea on how particular models deal with sunlight, rain and wind.
As the entire team are regular golfers, rangefinders get a thorough testing and often get compared to one another side by side to test for things like accuracy, waterproofing, durability and other features. That way we can give honest and insightful feedback to you, the reader. Technical Editor Joel Tadman oversees the entire technology section and he does a lot of the testing around these devices.
The final thing we wanted to mention in this section is no manufacturer can buy a good review. Our testing team reviews golf equipment and makes its own opinion on how good or bad the product is.
How to choose the best golf rangefinder
So you have decided you want a rangefinder, but what are some of the things you should be aware of before buying? Let's take a look.
Accuracy
This is the most important factor when buying a rangefinder. If it isn't accurate, it is pointless because it will provide misinformation which could lead to you playing the wrong club and a bogey or two may ensue. Accuracy is what usually separates the models we have selected above, and the ones you can find on A