Best Fairway Woods For Mid Handicappers 2022
We take a look at the best fairway woods for mid handicappers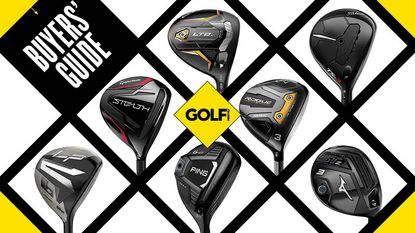 (Image credit: Future)
Best Fairway Woods For Mid Handicappers
The technology these days in the best fairway woods is incredible and the following products, while all trying to give us a helping hand, have a remarkable variety of approaches going on underneath the bonnet.
An array of technology is present across different brands, but all fairway woods have to be versatile enough to use off the tee, from the ground and, at times, around the green. They also have to bridge the gap from the driver to the irons well.
Mid handicappers in particular often neglect to focus on this area of the bag which could cost them shots. As such, we have taken a look at some of the best models for that level of player - all of which have slightly smaller heads than the most forgiving fairway woods, and yet still offer some help to ensure consistency of strike.
Watch us put the leading fairway woods of 2022 to the test
Here, we take a look at the best fairway woods for mid handicappers. Alternatively, take a look at our other guides on the best fairway woods for high handicappers or the best women's fairway woods as well.
Best Fairway Woods For Mid Handicappers
Why you can trust Golf Monthly Our expert reviewers spend hours testing and comparing products and services so you can choose the best for you. Find out more about how we test.
Overall best on test
Specifications
Lofts: 15°, 16.5°, 18°, 21°, 24°
Reasons to buy
+
Serious distance and impressive accuracy
+
Very forgiving on off-centre hits
Reasons to avoid
-
Non-adjustable
-
Lack of custom shafts may put better players off
The TaylorMade Stealth fairway family has two models, the Stealth and Stealth Plus. Featuring a 190cc Stealth Head, it comes in five options from 3-wood through to 9-wood, is non-adjustable and also fitted with a Fujikura Ventus shaft as stock.
Ranked as one of the best TaylorMade fairway woods on the market, the red and black Stealth colorway is highly aspirational. Under the hood, you'll also find TaylorMade's most trusted tech, including V Steel sole, Twist Face and the Speed Pocket.
The striking 3D carbon coated head looks great at address and a new laser-etched alignment aid on the clubface makes it easy to line up. The Stealth model was a clear winner in our testing, even outperforming the Stealth Plus. What's more, it led several data categories on average, including clubhead speed (103.7 mph), ball speed (150.9) and spin rate (3780 avg). It was also forgiving on mishits and had the tightest dispersion of all new 2022 fairway releases.
Fast and forgiving
Specifications
Lofts: 15°, 16.5°, 18°, 20°, 21°, 24°, 27°
Reasons to buy
+
Attractive premium looks
+
Offset face and slight draw bias for greater forgiveness
+
The highest ball speed of any fairway we've tested to date in 2022
Reasons to avoid
-
Speedometer graphics on crown aren't needed
The ST stands for Speed Tuned, which refers to Callaway using A.I (artificial intelligence) to optimise its Flash Face designs for the best possible launch, spin and ball speed.
One of the best Callaway fairway woods on the market, there's also the addition of a redeveloped Jailbreak system in the ST heads, where the dual 'batwings' have been pushed further out to the perimeter of the face, creating more face flex for better ball speeds.
In testing, it didn't disappoint, with the combination of low-spin and mid-launch when hitting it off the fairway making it a stunning performer. What's more, the average ball speed was 152.7 mph, the highest of any club on our test and total average distance was 247.3 yards. Even better, dispersion and accuracy were outstanding. As a result, the ST Max, for 2022, has been given one of our Editor's Choice awards.
Easy to launch and aesthetically pleasing
Specifications
Lofts: 13.5°, 15°, 16.5°, 18°
Reasons to buy
+
Aspirational aesthetic that is compact yet confidence-inspiring
+
Easy to launch
+
Impressive distance
Reasons to avoid
-
Not a huge upgrade over the previous generation
The Titleist TSR2 strikes the balance between the TSR3 and TRS2+, with it providing a mixture of distance and forgiveness. The balance of these two factors make it perfect for a mid range handicapper, as you get the both of both worlds within a premium performing fairway wood.
Featuring Titleist's plain and simple aesthetics, the fairway wood now has white groove lines that span the whole width of the face. You might think this is a small, and fairly inconsequential detail, but for us it worked to highlight the loft on offer.
Feel and acoustically wise it has a slightly lower pitched impact sound and a very satisfying 'crack' through impact, which golfers will absolutely love! What's more, it's very easy to launch and extremely consistent.
An accurate forgiving fairway wood
Specifications
Lofts: 13.5°, 14.0°, 14.0° Draw, 15.0°, 15.0° Draw, 16.0°, 16.0° Draw, 16.5°
Reasons to buy
+
Feel off the face is hard to beat
+
One of the straightest and most forgiving fairways woods we've tested
+
Adjustable for shaft fitting and loft tuning

Reasons to avoid
-
Golfers wanting out-and-out length or a back-up to driver will need to get custom-fit
The new Cobra LTDx line-up includes a choice of three adjustable fairway metals, with progressive designs, head shapes and sole rails designed to appeal to golfers of all ability levels. The LTDx fairways replace the Cobra Radspeed model, which last year ranked top overall performer in our annual test of the best fairway woods.
The LTDx fairways have a carbon fiber crown and a muted black matt finish, with the head being compact and sitting nicely square. There's also a 12g fixed weight positioned back in the head for maximum forgiveness and high launch.
The feel of the forged face is the most enjoyable of any fairway tested this year, with there being a definite joy to hit factor. Overall, it is the straightest fairway wood on test with the tightest dispersion. Being very forgiving and highly adjustable, there's a lot to like about the Cobra LTDx fairway.
Plenty of forgiveness
Reasons to buy
+
Plenty of forgiveness
+
Low spin and a strong ball flight

Reasons to avoid
-
Not the flashiest looking club
Ping has a fairway wood for every golfer in its G425 family of clubs, with G425 LST ranking as one of the best fairway woods for a mid handicapper that money can buy. This is thanks to its smaller head and strategically placed CG.
The company is renowned for its forgiveness across its range and the new Ping G425 fairway wood family is no different, as the LST offers forgiveness, as well as a low-spin, penetrating ball flight.
The one-piece face in the G425 LST makes for very fast ball speeds, 1.5mph quicker than last year's Ping G410. Consequently, this has made for an increase in yardage. What's more, it is also lofted at 14.5° for a driver-like loft, but this can be adjusted 1.5° up or down and up to 3° flatter, allowing the club to be fine-tuned to suit specific requirements. Along with the other models, the G425 LST ranks as one of the best Ping fairway woods.
Inspired confidence
Reasons to buy
+
Draw bias and offset helps dampen down slices
+
Premium components at a value price point

Reasons to avoid
-
Face sits strongly closed at address
-
Plays and feels light for stronger swingers
The Wilson Launch Pad fairway wood does exactly what it says on the tin, launch it higher for golfers who need extra help hitting a wood off the fairway or the tee.
Furthermore, these fairway woods are simple, uncomplicated and designed for improving golfers that want clubs that are easy to use and which correct some of their swing faults. In this case, the Wilson Launch Pad fairway will help dampen down a slice.
The most obvious thing you notice about the Wilson LP fairways is that they sit very closed and have an obvious draw bias. This naturally benefits the golfer who slices and helps straighten up ball flight for the majority of mid to high handicap golfers who come over the top on the downswing, hit across the ball and promote a left to right flight.
Plenty of adjustability
Specifications
Lofts: 15° (13°-17°) & 18° (16°-20°)
Reasons to buy
+
High Launch
+
Adjustability

Reasons to avoid
-
Looks may not be to everyone's taste
Mizuno fairway woods are some of the most criminally underrated woods on the market and the new ST-Z has shown marked improvements on last year's ST2000 model.
We love this model for how high it launches, making it a great fairway wood for those who use them to approach greens, especially as a second shot attacking a par 5. The ST-Z also has plenty of adjustability, which the ST2000 didn't have, allowing you to get just the right kind of ball flight and distance.
Easy to shape
Specifications
Lofts: 13.5°, 15°, 16.5°, 18°
Reasons to buy
+
Great for shaping and improved acoustics
Reasons to avoid
-
Dirt can gather in the vacated weight ports
This is more for the player who wants both speed and accuracy. Featuring an adjustable weight track on the back, which you can move to the heel, toe or keep it neutral, the TSi3 offers superb adaptability.
The beauty of the track is the attention to detail. Titleist have worked with a screw vendor so, in the space of just two clicks, it will come all the way out and, two clicks later, it is back in place.
When you are stood over the ball, it's hard to decipher which is the TSi2 or the TSi3, with both featuring a classic and smallish look. However, it says a lot about the genius of the design as they offer different benefits.
How do we test fairway woods
When it comes to Golf Monthly's testing procedure, we use the same ethos and methodology for all golf products to make sure they are as insightful, honest and comprehensive as possible. When it comes to golf clubs, we usually attend product launches so we can meet with the manufacturer's R&D experts to understand the new technology.
After we have an understanding here, our first port of call when hitting clubs is usually the indoor simulator at Foresight Sports, where the team can test in a controlled environment using premium balls and the GCQuad launch monitor. We also use TrackMan at golf facilities across the UK. We then do outdoor testing, usually on ranges at West Hill Golf Club, Surrey, The Wynyard Club in Teesside and at Brancepeth Castle Golf Club in Durham. We then put the clubs into play out on these golf courses.
Specifically for fairway woods, product testing is headed up by Matthew Moore (opens in new tab), supported by technical editor Joel Tadman (opens in new tab). Both are competitive low handicap golfers, able to efficiently test the biggest product releases and successfully communicate equipment technology and product features to a wide golfing audience.
What to consider when buying a fairway wood
What factors do you need to consider when trying to fill the fairway wood slot in your bag? Let's take a look.
Loft - You need to know the specific gap you are trying to fill in your golf bag. How far does your driver go, and how far do your longest irons or hybrids go? Knowing this will then dictate what loft your fairway wood needs to be to fill the gap.
Forgiveness - Some fairway woods are more forgiving than others, especially because many manufacturers create different models for different levels of player. For example there are four different Cobra Radspeed fairways with different head sizes, shapes and they are designed for different golfers. If you need as much help as possible, a larger head will work for you, whilst if you are a better player and strike is more consistent, then forgiveness may not be a key factor for you. A mid-handicap player will likely look for something in the middle.
Adjustability - Most models these days come with a degree of adjustability whether it be loft, weight movement, shaft and so on. Therefore have a think about how important adjustability is to you because you can change the characteristics of a club if you want to. Alternatively you can just keep things simple with other models as well.
Versatility - Fairway woods need to be able to work off the tee, on the ground in different lies, and also occasionally around the green. If you have a model that works in only one of these ways, then there are definitely models out there to help you improve.
Looks - You have to like how a golf club looks especially when looking down on the golf ball. The fairway wood is one of the most difficult clubs to hit and therefore you need something that gives you confidence and makes your playing partners jealous with envy. Therefore go and pick several models and see how they look and feel in your hands.
Budget - Finally be aware of your budget. You can go for more premium models, such as the TaylorMade SIM2 Ti, or you can go for cheaper designs like the Wilson Staff D9. Wherever you fall in terms of price point, there is something for everyone.
FAQs
What do I need from a fairway wood?
A fairway wood should provide sufficient forgiveness and distance. They are arguably the toughest clubs to hit in the bag, so it's crucial that you find one that is comfortable to hit and will provide confidence at address.
What is the best brand of fairway wood?
When deciding on your next fairway wood it will be down to personal preference. Some will want a forgiving fairway wood, whilst some will want one that provides distance. There is also the matter of how good it looks at address, with some going for looks.