Best Fairway Woods 2022
Check out the best fairway woods on the market for distance, accuracy and forgiveness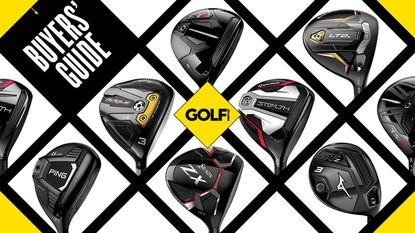 (Image credit: Golf Monthly)
Best Fairway Woods
The fairway wood can be one of the hardest slots to fill in your golf bag. We don't hit them as much as irons, drivers, wedges and putters but when we do pull the headcover, they really have to step up and perform. You might need to hit a tight fairway when driver is too risky or carry a pond to reach a par-5 in two. We also don't tend to hit them as much in practice and it's fair to say that golfers typically replace fairway woods less often than others clubs in the bag.
The good news is that evolutions in multi-material construction and the use of A.I (artificial intelligence) in face design, means that the best fairway woods now deliver more distance and consistency off the tee. They are easier to pick up off the fairway, can be hit well out of rough and even used around the green from collar rough or mown aprons.
Watch us put the leading fairway woods of 2022 to the test
We tested all fairway woods on course, at the range and indoors using either a Foresight Sports GCQuad launch monitor or TrackMan with Titleist Pro V1x golf balls. Below, you'll find our take on the best fairway woods currently on the market to help narrow your search and find the right fairway wood for you. Alternatively, you can really focus your efforts using our guides to the most forgiving fairway woods, the best fairway woods for mid handicappers and the best women's fairway woods.
Best Fairway Woods - Best 3 Woods and Best 5 Woods
The TaylorMade Stealth fairway family has two models, the Stealth and Stealth Plus. The 190cc Stealth Head comes in five options from 3-wood through to 9-wood, is non-adjustable and fitted with a Fujikura Ventus shaft as stock. The red and black Stealth colour story is highly aspirational and under the hood, you'll find TaylorMade's most trusted tech, including V Steel sole, Twist Face and the Speed Pocket.
The striking 3D carbon coated head looks great at address and a new laser-etched alignment aid on the clubface makes it easy to line up. The Stealth model was a clear winner in our testing, even outperforming Stealth Plus. It led several data categories on average, including clubhead speed (103.7 mph), ball speed (150.9) and spin rate (3780 avg). It was also forgiving on mishits and had the tightest dispersion of all new 2022 fairway releases.
Titleist have made significant changes to its TSR3 fairway wood, with the ARC (Active Recoil Channel) being removed for 2022. In its place, Titleist have reconfigured the way the hosel enters the clubhead and made significant weight savings. What's more, the sole plate has also been made thicker, which makes the centre of gravity lower and deeper - a key ingredient for fairway wood performance, especially from the deck.
There is also the addition of the new SureFit CG weight track system that now has five positions instead of three, providing more adjustability for golfers seeking greater assistance in managing their ball flight and launch characteristics.
It's not just the weighting system that has been improved, with the company introducing full face scorelines that undoubtedly make aligning the club face easier and makes it look more inviting to hit behind the ball.
The Callaway Rogue ST range features once again on this list, but this time the Max version which, for 2022, has been given one of our Editor's Choice awards.
The ST stands for Speed Tuned, which refers to Callaway using A.I (artificial intelligence) to optimise its Flash Face designs for the best possible launch, spin and ball speed. There's also the addition of a redeveloped Jailbreak system in the ST heads, where the dual 'batwings' have been pushed further out to the perimeter of the face, creating more face flex for better ball speeds.
In testing, it didn't disappoint, with the combination of low-spin and mid-launch when hitting it off the fairway making it a stunning performer. What's more, the average ball speed was 152.7 mph, the highest of any club on our test and total average distance was 247.3 yards. Even better, dispersion and accuracy were outstanding.
Unlike its predecessor, the Ping G425 fairway wood has a one-piece face, rather than a steel face insert, which has increased ball speeds on the G425 by up to 1.5mph. This has translated into one of the most forgiving woods on the market gaining a decent amount of distance. This lineup features three different heads, the Max, LST and SFT, meaning there is a head for every golfer. The Max head is the all-rounder and Ping have removed the turbulators from the crown, making for a much cleaner, matte aesthetic.
The adjustable hosel with eight settings allows you to change both loft and lie, meaning you can tweak the G425 to more precise specifications, making it one of the best Ping fairway woods that money can buy.
The Titleist TSR2 strikes the balance between the TSR3 and TRS2+, with it providing a mixture of distance and forgiveness. Featuring Titleist's plain and simple aesthetics, the fairway wood now has white groove lines that span the whole width of the face. You might think this is a small, and fairly inconsequential detail, but for us it worked to highlight the loft on offer.
Feel and acoustically wise it has a slightly lower pitched impact sound and a very satisfying 'crack' through impact, which golfers will absolutely love! What's more, it's very easy to launch and extremely consistent.
The new Cobra LTDx line-up includes a choice of three adjustable fairway metals, with progressive designs, head shapes and sole rails designed to appeal to golfers of all ability levels. The LTDx fairways replace the Cobra Radspeed model, which last year ranked top overall performer in our annual test of the best fairway woods.
The LTDx fairways have a carbon fiber crown with a muted black matt finish. Head is compact and sits nicely square. There's a 12g fixed weight positioned back in the head for maximum forgiveness and high launch. Cobra's trademark sole rails are missing in these models.
The feel of the forged face is the most enjoyable of any fairway tested this year. There's a definite joy to hit factor. Overall, the straightest fairway wood on test with the tightest dispersion. Very forgiving and highly adjustable, there's a lot to like about the Cobra LTDx fairway.
Tour Edge has a long history of developing high-performing fairway woods for more accomplished players and the Exotics C722 will add to that legacy. In our testing sessions, we loved the shape and overall look of this fairway wood, but where it really shined was in terms of distance, as we found it to be very long, both off of a tee and from the turf.
That said, while distance was a standout feature, the C722 offered surprising forgiveness in our testing as well, especially in terms of dispersion, as poor strikes tended to stay on target. The C722 was designed to provide low spin but a 90-gram sole plate was also implemented to promote higher launch, and good swings produced plenty of height. Overall, however, this is a fairway wood best suited for low- and mid-handicappers who generate ample speed and regularly find the center of the face.
Mizuno fairway woods are some of the most criminally underrated woods on the market and the new ST-Z has shown marked improvements on last year's ST2000 model. We love this model for how high it launches, making it a great fairway wood for those who use them to approach greens, especially as a second shot attacking a par 5.
The ST-Z also has plenty of adjustability, which the ST2000 didn't have, allowing you to get just the right kind of ball flight and distance. The ST-X model is only other option in the new Mizuno range, offering all the benefits of the ST-Z with a draw-bias weight embedded into the head. As a result, it is ranked as one of the most forgiving fairway woods on the market.
The TaylorMade Stealth Plus Fairway Wood has a compact 175cc head with an adjustable loft sleeve that can be custom-fit with a range of premium shafts. Aimed at better players, Stealth Plus has an infinity edge carbon crown that is 12% larger than the SIM2 Titanium fairways. Using more carbon in the crown allows weight to be moved lower in the clubhead and mass to be re-engineered in the 80g silver V Steel sole for better turf interaction, reduced drag and higher launch.
An ultra-thin ZATECH titanium face promotes super-fast ball speeds with combines well with TaylorMade's popular Speed Pocket and Twist Face technologies for more distance.
It comes in a 'rocket' 13.5° option, allowing you to use it almost as a driver off the tee and as a great attacking option on a par 5. The 19° 5-wood is another great option for golfers who aren't yet convinced or comfortable with playing a smaller headed hybrid, with both the Stealth and Stealth Plus featuring in our best TaylorMade fairway woods guide.
For better faster swinging players, Callaway has released the Rogue ST LS Fairway. LS stands for low-spin, which is why this model has a compact players head with a 28g Tungsten speed cartridge and a single weight screw pushing the CG lower and further forward in the face. The clubface was designed and shaped with artificial intelligence (A.I) to promote higher ball speeds and encourage a fade flight for greater control.
In our testing, the ball felt like it fired off the face with real energy. It was one of the longest and fastest on test with higher than average ball speed and total distance. Importantly, it had one of the tightest dispersion results and clearly encouraged a soft controlled fade.
Srixon say this is its most advanced fairway yet thanks to their 'rebound frame' technology. This provides a more efficient transfer of energy by focusing more energy into the ball. Put simply(ish) it works by layering alternating zones of flexible and stiff material which then transports the correct energy into the ball.
The technology delivered for us in testing. Out of the screws, it's one of the longest models we've tried and with the use of lightweight carbon and a stepped crown design help to lower the centre of gravity, we certainly found this club easier to launch off the deck than some 15˚ 3-woods, making it one of the best fairway woods for high handicappers.
Ranked as one of the best golf clubs out there, simplicity is key with the Titleist TSi2 fairway wood. A classic, clean black look at address is accompanied by a nice size head that inspires plenty of confidence off a tee or off a fairway lie.
It launches nice and high and is super forgiving across the face, thanks to the deeper and lower CG. This makes it a thoroughly playable fairway wood for golfers up and down the handicap range. Plenty of adjustment in the hosel and five different lofts mean it's easy to find the right fit. For the slower swinger, we would recommend the Titleist TSi1 as a great option.
Despite being released in 2021, the Epic Speed and Epic Max fairway woods have been an extremely popular and ranks as some of the best Callaway fairway woods on the market, as they provide a wide range of choice alongside the newer Rogue ST models.
Callaway has been a pioneer in using A.I (artificial intelligence) to optimise the performance boundaries in metalwoods. Using a supercomputer to analyse two decades of data on driver and metalwood performance, Callaway wanted to optimise face construction to produce the hottest face possible within legal limits.
The Epic Speed fairway wood also contains a much farther forward CG, which is aimed at golfers who want a strong ball flight, less spin and consistent shot shape dispersion.
This Wilson Launch Pad fairway wood does exactly what it says on the tin. All golfers want to strike the ball with a lovely high flight and, with this fairway wood, you get exactly that, as it launches the ball higher for those golfers who need extra help hitting a wood off the fairway or the tee.
These fairway woods are simple, uncomplicated and designed for improving golfers that want clubs that are easy to use and which correct some of their swing faults. In this case, the Wilson Launch Pad fairway will help dampen down a slice.
The most obvious thing you notice about the Wilson LP fairways is that they sit very closed and have an obvious draw bias. This naturally benefits the golfer who slices the ball, with the Launch Pad straightening up ball flight for the majority of mid to high handicap golfers who come over the top on the downswing, hit across the ball and promote a left to right flight.
How we test the best fairway woods
When it comes to Golf Monthly's testing procedure, we use the same ethos and methodology for all golf products to make sure they are as insightful, honest and comprehensive as possible. When it comes to golf clubs, we usually attend product launches so we can meet with the manufacturer's R&D experts to understand the new technology.
After we have an understanding here, our first port of call when hitting clubs is usually the indoor simulator at Foresight Sports, where the team can test in a controlled environment using premium balls and the GCQuad launch monitor. We also use TrackMan at golf facilities across the UK. We then do outdoor testing, usually on ranges at West Hill Golf Club, Surrey, The Wynyard Club in Teesside and at Brancepeth Castle Golf Club in Durham. We then put the clubs into play out on these golf courses.
Specifically for fairway woods, product testing is headed up by Matthew Moore, supported by technical editor Joel Tadman. Both are competitive low handicap golfers, able to efficiently test the biggest product releases and successfully communicate equipment technology and product features to a wide golfing audience.
What to consider when buying a fairway wood
Loft
Figure out the specific gap to be filled in your golf bag. Ask yourself how far does my driver go, and how far do your longest irons or hybrids go? Knowing this will dictate the ideal loft for your fairway wood.
Forgiveness
Some fairway woods are more forgiving than others, especially because many manufacturers create different models for different levels of player. For example, there are three different Cobra LTDx fairways with different head sizes, shapes and they are designed for different golfers. If you need as much help as possible, a larger head will work for you, whilst if you are a better player and strike is more consistent, then forgiveness may not be a key factor for you.
Adjustability
Most modern fairway woods come with a degree of adjustability, whether that's loft, moveable weights or shaft fittings. Think about how important adjustability is to you, because you can change the characteristics of a club's performance with a turn of a wrench. Or, you can keep things simple and opt for a non-adjustable model with a stock shaft you hit well.
Versatility
Fairway woods must work well off the tee, on the ground from different lies and even around the green. If you have a model that works in only one of these areas, then there may be plenty of improvement and flexibility in upgrading your fairway woods.
Looks
You have to like how a golf club looks, especially when looking down on the golf ball. The fairway wood is one of the most difficult clubs to hit, which is why you need something that gives you confidence and may even spark a pang of jealousy in your playing partners. Our advice is go and pick several models, see how they look and feel in your hands and test them in a variety of situations and lies.
Budget
Be aware of your budget. You can go for more premium models, such as the TaylorMade Stealth Plus or Callaway Rogue ST LS or you can opt for cheaper designs like the Wilson Launch Pad. Wherever you fall in budget, our fairway wood guides will present you with good advice on buying a new fairway wood.
FAQ's
What are fairway woods?
Fairway woods are versatile distance clubs that are designed to be hit from the tee, off the fairway and even from light rough, similar to a mini or small headed driver but with slightly more loft and a shallower face.
Traditionally, the size of a driver head ranges from roughly 440cc to 460cc, whereas a fairway wood often is from 140cc to 180cc. Fairway woods look similar in appearance to drivers but have smaller heads.
Fairway wood faces are much shallower than a driver, which keeps the COG (centre of gravity) lower, helping you to get the ball airborne. Fairway woods are more forgiving than long irons and almost every Tour player puts one or two fairway woods in the bag.
What fairway woods should I carry?
This depends on three factors.
First, what ability level are you? Fairway woods are more forgiving than long irons, so if you are a beginner or a high handicap player we'd recommend putting as many fairway woods in the bag as possible, providing the lofts and gapping are correct. If you are a better player, then which woods you carry will depend on the following two factors.
Loft and gapping is the next point to mention. Fairway woods have to be able to fill the gap in the bag from the driver to your irons. Therefore, knowing how far you hit each club gives you insight into which yardages you need to fill with fairway woods. The best way of doing this is on a launch monitor with an experienced PGA professional or custom-fitter.
The final factor is the type of golf course do you play on? If you play a lot of links golf, then you'll likely need to hit lower penetrating shots, whereas inland or parkland golf requires you to hit shots that fly higher and land softer on the fairway or green. Fairway woods are definitely more suited to target parkland golf rather than fast-running firm linksland golf.
The same logic applies to playing golf in windy conditions. Fairway woods are usually designed to give higher launch which makes them difficult to control in the wind, especially when compared to long irons or driving and utility irons.
What loft should a fairway wood be?
Manufacturers offer a range of fairway wood head styles and lofts, ranging from super-strong three woods at 13.5° to 7,9 or 11-woods which are designed for golfers who struggle to launch mid and long irons and want more confidence inspiring equipment to hit the ball further.
Each golfer is different, in their physical fitness, ability and approach to the game. A wide range of fairway wood lofts can provide options for senior players, women and juniors who want alternatives to hitting longer irons. Many established Tour winners have carried 7-woods when course conditions required high flying soft-landing ball flights on key par-5 holes and at long par-3's.
If you enjoyed this guide on the best fairway woods, check out the Golf Monthly website