Best Budget Golf Drivers 2022
Buying one of the best budget golf drivers doesn't mean you'll lose out on performance...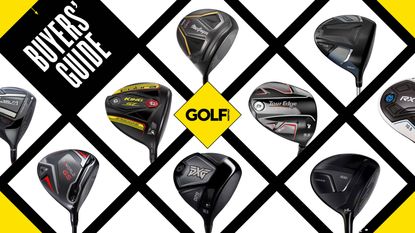 (Image credit: Future)
Best Budget Golf Drivers
It's no secret that buying a new driver has become even more expensive over the past decade or so. As manufacturers have started to invest more into new technology, new materials and all-out marketing strategies, golfers have seen the average price of the best golf drivers (opens in new tab) begin to touch a slightly eye-watering $500.
For some golfers, this investment is well worth it as the new technology allows them to get the best out of their long game on course. It must also be said, that recent testing of the best new drivers has shown increases in performance every three or four years.
For others however these higher prices are too much money to invest in one club in the bag. However, having a driver that works well for your swing is essential to playing your best golf, so an investment needs to be made somewhere. That's why we've come up with this list of the best budget golf drivers on the market right now. Our aim in this guide is to collate a group high performing, new drivers that won't break the bank.
For this list of the best budget golf drivers, we've set ourselves the challenge of finding the drivers that represent excellent value for money. All of these drivers are brand new, so no searching through eBay or any other second hand retailers here. Keep an eye out for some models that are one or two years old, as these have come down drastically in price and are still packed with modern technology. There's plenty of other equipment from 2021 that has gone down in price in 2022, so be sure to grab yourself a bargain this year.
Alternatively, check out our guides on the best drivers for slicers (opens in new tab), best drivers for beginners (opens in new tab) or best drivers for seniors (opens in new tab) if you're after something even more specific for your game.
Best Budget Golf Drivers
Why you can trust Golf Monthly Our expert reviewers spend hours testing and comparing products and services so you can choose the best for you. Find out more about how we test.
Specifications
Lofts : 9°, 10.5° & 12°
Adjustable Hosel: Yes
Stock Shaft: Multiple
Left Handed Option: Yes, in all available lofts
Reasons to buy
+
Simple but attractive aesthetics
+
Improved acoustics and distance
+
Excellent value
You might be as surprised as we are that a PXG driver has made our best budget list. Despite PXG's notoriously premium prices when it comes to its product line, the 0211 2022 driver is available at a fairly compelling price which makes it easily one of the best budget drivers on the market right now.
There are countless shaft options, in five different flexes, as well as three stock loft options for both right and left handers. However, just because this driver has a cut price, doesn't mean you lose out on any performance.
For 2022, the aesthetics of the driver have been refined and there is no doubt this is an aspirational, inviting-looking driver. In testing, it was also keeping up with premium models that cost $300 more! Along with the distance, there is also a huge amount of control to be had, with the strong flight excelling in windy conditions.
Specifications
Lofts: 9.5°, 10.5° & 12°
Adjustable Hosel: No
Stock Shaft: Mitsubishi Fubuki HL
Left Handed Option: No
Reasons to buy
+
Highly forgiving on mis-hits
+
Longer than expected in testing
Reasons to avoid
-
Limited stock shaft options
The Tour Edge (opens in new tab) C522 driver has been one of the biggest surprises of the year in our testing. It's available at an incredibly competitive price point while delivering performance on par with what golfers would expect from far more expensive drivers. In our testing, the C522 proved to be highly forgiving on mis-hits but also quite long and very consistent in terms of the ball flight it delivered.
The C522 also looks good at address. It has a larger profile that inspires confidence without sacrificing the traditional, rounded shape that most golfers like. Its aesthetics also offer a premium look that one might not expect at this cost. It is worth noting that the C522's impact sound is a bit on the louder side but in an explosive way as opposed to being distracting or bothersome.
Additionally, the C522 does not have an adjustable hosel and is only offered with one stock shaft choice. But for a price of $249, that shouldn't come as much of a surprise. The C522 won't fit everyone for those reasons, but it will fit the vast majority of golfers just fine, and at its price it should be a consideration for any golfer who's looking for a solid all-around driver without having to break the bank.
Specifications
Lofts: 9°, 10.5° & 13°
Adjustable Hosel : No
Stock Shaft : Mitsubishi Tensei CK Blue A (50g), R (50g), S (60g)
Left Handed Option: Yes, 10.5° only
Reasons to buy
+
Satisfying impact sound
+
Ample off-centre forgiveness
Wilson Staff knows how to provide golfers with great value for money, and the D9 driver is no different. The design of the D9 driver comes from computer modeling software used to simulate hundreds of different clubhead variations to find the most effective design. It also features a three-layer composite crown which helps deal with vibration and reduce the weight of the club.
A 10-gram sole weight comes as standard or there is the option for a super-lightweight 3-gram weight, giving the player the ability to fine-tune the moment of inertia and forgiveness on offer.
Specifications
Lofts: 9°, 10.5° & 13°
Adjustable Hosel : No
Stock Shaft : Mitsubishi Tensei CK Blue A (50g), R (50g), S (60g)
Left Handed Option: Yes, 10.5° only
Reasons to buy
+
Easy to align
+
Interchangeable weights
Reasons to avoid
-
Louder, higher-pitched sound
-
Can't get custom fit for this model in 2022
Launched in 2020, we have included the Cobra (opens in new tab) SpeedZone range of driver in this list as there is still plenty of availability online, making this a great value driver in 2022. You'll struggle to get custom fit for this driver in 2022, but if you know your specifications there's a great deal to be had here. Let's talk through the range...
Cobra's King Speedzone was one of the best golf drivers for distance (opens in new tab) when it launched in 2020 and impressed as a true all-rounder that delivers high levels of forgiveness while still optimizing distance. The design of the Cobra SZ has been influenced by fast cars, hence the sleek appearance that we think really stands out on the shelf - even in 2022.
One of the key technologies here is the CNC Infinity Milled Face. This has been added to deliver more consistent ball speeds on shots struck away from the centre of the clubface. Elsewhere, a new streamlined Titanium T-Bar Speed Chassis and the carbon wrap crown allow more weight to be redistributed low and back, and around the perimeter for higher levels of forgiveness, and the aerodynamics have been improved to reduce drag and to maximize clubhead speed.
Specifications
Lofts: 9.5°, 10.5° & 12°
Adjustable Hosel: Yes
Stock Shaft : Fujikura Ventus Blue, Fujikura Ventus Red & Mitsubishi Tensei AV Raw Blue 65
Left Handed Option: Yes, in 10.5°
Reasons to buy
+
The sleek look invites you to take a super-aggressive cut at the ball
+
Impressively forgiving
+
Impact sounds mighty
Reasons to avoid
-
Misses high on the clubface tend to rocket skyward and go short
Best known for selling "value" clubs, Tour Edge's Exotics premium line aims to compete with the major brands. For this club, the company got feedback from its Champions Tour pros – including Bernhard Langer – while creating the design. The 460cc E722 (Extreme) offers high MOI via a 30-gram back weight, higher launch and maximum forgiveness, with more spin and slightly more offset.
The Tour Edge Exotics E722 driver also has a 30-gram weight at the extreme trailing edge of the sole for an extreme low-rearward CG that increases stability at impact and tightens dispersion - ideal for high handicap (opens in new tab) golfers looking for the most forgiveness possible. Additional weights are available in 20, 25 and 35 grams – individually or in a weight kit. With a recommended retail price of $399, we think that with the level of playability on offer, this represents excellent value for money.
Specifications
Lofts: 9.5°, 10.5 & 11.5°
Adjustable Hosel: Yes
Stock Shaft : Honma Speedtuned
Left Handed Option: No
Reasons to buy
+
Stunning looks from every angle
+
Noticeably forgiving on off-centre hits
Honma is another brand probably best known for its super-premium Beres range of clubs, but they make some fantastic clubs at a much more reasonable price too.
The T//World GS driver is a great example of this and it's a club aimed at golfers across the handicap spectrum, with the emphasis on forgiveness and control over outright speed and distance. The driver looks really appealing behind the ball, with a classic looking shape and subtle alignment marks that help with lining up the ball at address. Our immediate first impression during testing was how stable this driver is. Indeed, the excellent stock shaft on offer feels light and flexible but we never lost control of the ball flight in our testing.
The variable thickness of the face helps to reduce spin on strikes low and out of the toe, both of which are common amongst mid and high handicap players. The Non-Rotating System in the hosel promotes consistency of strike and flight by ensuring the spine of the shaft remains in the six o'clock position when loft and lie are adjusted.
Specifications
Lofts: 10.5°, 12° & 15°
Adjustable Hosel: No
Stock Shaft: Mitsubishi Fubuki HL
Left Handed Option: Yes, in 10.5°
Reasons to buy
+
Slice-fighting technology that works
+
Highly forgiving on off-center strikes
The Tour Edge E522 driver was designed specifically to combat a slice. To do that, it has an offset hosel design, an upright lie angle, and internal weighting that has been moved toward the heel to help golfers square the clubface more easily at impact. In our testing sessions, those technological features delivered in an impressive way, as we found it difficult to hit shots that moved significantly from left to right no matter how hard we tried.
We also found the E522 to be extremely forgiving on off-center strikes in terms of dispersion and it provided naturally high launch conditions. It also has a sharp, classic look in the bag and at address in spite of the offset it presents. The impact sound that the E522 offers is on the louder, high-pitched side, which might not appeal to some golfers, and it does not have an adjustable hosel. But for players who consistently slice the ball, the E522 is certainly worth consideration, especially for those who are shopping on a tight budget.
Specifications
Lofts: 10.5 and 12°
Adjustable Hosel: No
Stock Shaft : MacGregor Lightweight Graphite
Left Handed Option: No
Reasons to buy
+
Stretched-out look inspires confidence
+
Cutting edge looks from every angle
Reasons to avoid
-
Other drivers feel more solid
Sporting a stylish matte black 460cc full titanium head with elegant lines, the V Foil Speed sits perfectly behind the ball, inspiring confidence at address. The ultra-thin face delivers significant ball speed and distance gains while the expanded sweet spot, bespoke premium lightweight graphite shaft and high MOI design add in the perfect combination of distance, control and forgiveness off the tee.
Finished off with a soft compound MacGregor grip that has been designed to provide the perfect combination of comfort and secure connection to the club, the V Foil Speed driver is packed with performance features perfectly suited to the high handicap golfer.
How We Test Drivers
The first thing we should mention is our overall testing ethos (opens in new tab) at Golf Monthly which is to put all products through a rigorous testing procedure to give you crucial insights into how they perform, how they compare to their predecessors and where they stack up in relation to the competition. As such we regularly attend product launches and meet with the manufacturer's R&D experts to understand the new technology.
Then the first port of call to test golf clubs is usually the indoor simulator at Foresight Sports, where the team can test in a controlled environment using premium balls and the GCQuad launch monitor. We then do outdoor testing mainly at West Hill Golf Club, a course in Surrey with excellent practice facilities.
Getting more specific, our equipment specialists have hit most drivers out on the market, in testing, practice and competition play, and deduced the above models are our top picks for budget models.
What To Consider When Buying A Budget Driver
When it comes to making sure you get the right driver for your game, there are several factors to consider, chief among which is the size.
Size - The larger the clubhead, the more forgiving it tends to be. When hitting, try and take note of where you are striking the golf ball with the face of the club and see if there is any performance drops. Many drivers these days are designed to perform regardless of where you strike them off the face and you being able to see and understand that in person will help you be more confident with one model over another.
The other thing to acknowledge when looking at the size is also the looks. It is important you get a driver that suits your eye especially when it is down behind the golf ball. If it is too big, that may put you off, but if it is too small this may dampen confidence.
Draw-biased? - If you are a slicer of the golf ball then a forgiving, draw-biased driver could be the way to go to eradicate the big slices. These types of drivers won't all of a sudden have you hitting roping draws down the fairway, but they'll do a lot to encourage a draw shape or at least a little but less slice.
Weight - Weight has become a big factor when it comes to drivers, with most brands making models that have a weight towards the back of the head to aid forgiveness and launch. When it comes to whether you want a forgiving driver, it is worth acknowledging whether this is important to you because if not then manufacturers usually make a model without a weight there.
Adjustability - Often, the weights in drivers are moveable and adjustability of drivers has become a huge part of modern golf. Being able to tinker and change loft, lie, and many other factors, has become all the rage and if you like to try new things then a model with adjustability is worth considering.
Shaft - Some shafts have been designed to help players get as much distance as possible so it is worth thinking about which models will help you achieve those extra yards. Also check out our guide on the best driver shafts too.
Budget - Price is obviously an important factor and thankfully there are lots of drivers coming in at different price points. As you have seen in this piece, there are some great drivers out there for well under $300.
If you want to invest in the best drivers (opens in new tab) from 2022 though, you'll be looking at around 450-500 units of your local currency. There are benefits to be had from investing this extra cash, but setting yourself an initial budget will make the search much easier.
FAQs
What is a good cheap driver?
A good cheap driver should cost you no more than $300. For this price you can still get high quality performance and a high quality look and feel. All the drivers in our guide should cross each of those factors off.